Hunter Hayes Recalls First Meeting Brad Paisley, Talks 'Outstanding in Our Field'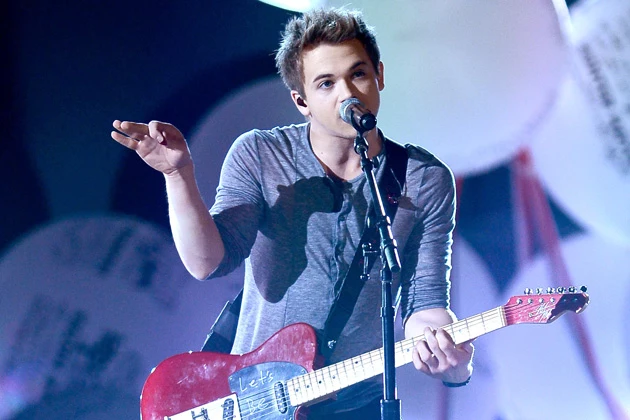 Hot rising star Hunter Hayes is on a major roll. The 21-year-old singer-songwriter and multi-instrumentalist released his major label debut in 2011, and since then he's scored a big hit with 'Wanted' and won a number of critical accolades. But he was still unsure of himself when superstar Brad Paisley asked him to play guitar on 'Outstanding in Our Field,' a track from the legend's new album, 'Wheelhouse.'
Hayes was in Las Vegas this past weekend for the ACM Awards, where he actually joined Paisley and Dierks Bentley to debut the song live. He tells Taste of Country it wasn't his first time jamming with Paisley. "I sat in with him when I was like, six," he recalls. "He came to my hometown — it was his first tour. I sat in for a song or two, and I met him and we got to sort of know each other, and when I saw him a couple of times after that, he remembered me."
The pair hadn't seen each other in six years when they ran into each other at the Grand Ole Opry last year, which led Paisley to invite the young up-and-comer to play on his album. "And I'm driving there, the whole time thinking, 'What can I contribute to this?'" Hayes admits with a laugh. "'What good am I gonna do on this record?'"
Hayes just followed his instincts for the track. "I just played exactly what was my thing, and I didn't know if it was gonna work," he says. "I was like, 'Man, use what you want, don't use what you don't like or whatever.'" The younger musician told Paisley that much of what he had contributed to the track was probably close to what Paisley himself would have played — since his playing was such a huge influence on Hayes to begin with.
Still, Hayes was grateful for the experience. "It was a lot of fun to play on," he says, "and obviously Dierks is on it as well. So it's fun to be part of something like that."
Hayes also debuted his own new single, 'I Want Crazy,' at the ACMs. It's the first track from his forthcoming second album.
Source:
Hunter Hayes Recalls First Meeting Brad Paisley, Talks 'Outstanding in Our Field'