'Mad Men' Final Season Photos: Don, Megan, Peggy and Roger Are Definitely Going Places
)Subscribe to Cat Country 102.9 on
It's become something of a running gag that 'Mad Men' keeps spoilers airtight right through the premiere, but even the recent key art and photo from the final season at least implied we might see Don Draper do a bit of travel. Now, Roger, Peggy and Megan have all gotten in on the go with the latest 'Mad Men' season key art, while Matthew Weiner has offered up a few suggestions as to what we might see in "The End of an Era."
Much as we'd like to believe by the three new photos that Don and Megan might have stayed together (at least long enough to travel) or that Roger might have allowed Don back into the firm that they might undertake a business trip like the good ol' days, or even that Don and Peggy might have run into one another, showrunner Matthew Weiner told Vulture not to look too heavily into the airport imagery:
Those are all gallery shots, or, in the language of the show, advertising. We picked the airport partially because of the irony of the fact that there is zero glamor at an airport now, and in travel in general. It doesn't defy analysis, because all those people will be in the show, but I would not read meaning into it. Sorry!
At the very least, Weiner was a bit more open to TVGuide in clearing up how his vision for the finale would unfold between the seventh season's initial seven episodes in 2014, along with the final 7 in 2015:
A lot of what we're dealing with this season, and I won't be too specific about it, is we're acknowledging what happened to Don at the end of last season. That really did happen. He lost his job but also had a silent moment of reconciliation with his daughter. And he had that breakdown at the Hershey meeting where his anxiety was expressed as a confession. The consequences of that activity were kind of what we're writing about on some level. What part is irrevocable? Just because you feel different doesn't mean the world thinks you're different. And it's hard to prove that you changed or to know if you've really changed.

Specifically as the show comes to a close I was interested in the material versus the immaterial world. The world of money, ambition, possession and the concrete and not-so-concrete expressions of love. For Don it definitely seems like an acquisition on some level. And then the immaterial, which is that, on some level inside these characters there is a world beyond that that is not what we see. If those other needs are met, or not met, how will that affect them?
Welp, doesn't look like we'll be getting many concrete answers until the April 13 premiere, and it'll be a long road until the finale in 2015. In the meantime, check out the latest super-vague 'Mad Men' season 7 photos above and below, and tell us where you'd like to see Don Draper when the new season picks up this April!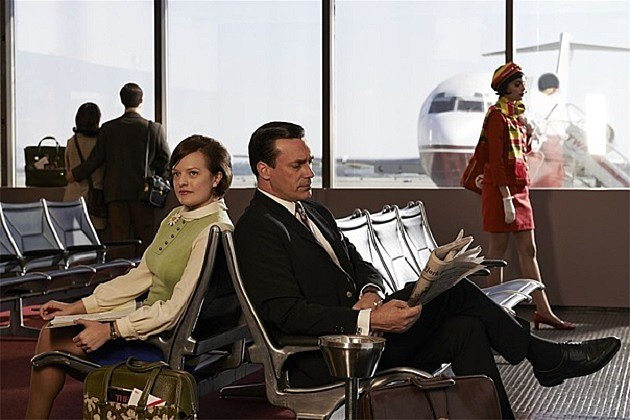 Source:
'Mad Men' Final Season Photos: Don, Megan, Peggy and Roger Are Definitely Going Places