Country's Biggest Stars Pay Tribute to Our Military on Veterans Day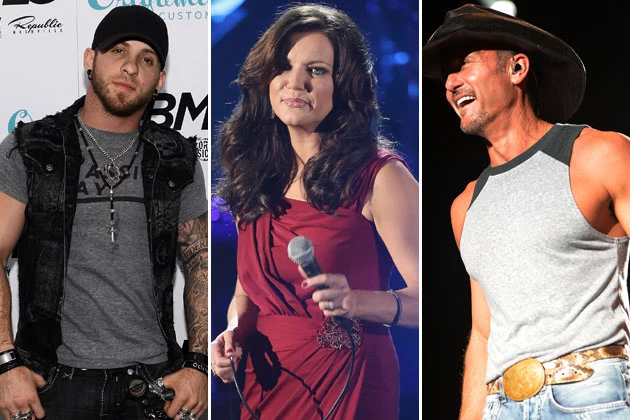 James Otto and Craig Morgan are two stars who've served their country to share their thoughts on Veterans Day this year. Others, like Dustin Lynch and Frankie Ballard, shared photos of veterans they grew up admiring. It's a national holiday everyone should recognize, and superstars like Tim McGraw and Martina McBride didn't hesitate.
Lady Antebellum played on 'Today' Monday morning (Nov. 11), while Clint Black gave fans a photo of him standing alongside two active members of the military. See tweets from over a dozen stars below, before paying tribute to a veteran in your life in the comments section below.
The band and I had a blast playing for our military last night at Mayport. Thanks to all who serve our country.

— Tim McGraw (@TheTimMcGraw) November 11, 2013
Proud to honor my grandpa Lee today #USAF, and for all the veterans around the world thanks for serving our country pic.twitter.com/Pwj9sfSpOM

— Dustin Lynch (@dustinlynch) November 11, 2013
Thank you to those who have served and those currently serving! http://t.co/ESdei9a7cj

— Keith Urban (@KeithUrban) November 11, 2013
This #VeteransDay, I'm honoring those who served. To the heroes out there: Connect with support when you need it at http://t.co/Sj58Zq3NXn.

— Craig Morgan (@cmorganmusic) November 11, 2013
Saluting our veterans. I've been honored to be amongst you! Me & Hayden w/our pilots, Mike Holloman & Chris Carlson! http://t.co/ynqggaspDR

— Clint Black (@Clint_Black) November 11, 2013
I always think about my Grandpa on #VeteransDay. Frank the 2nd was the toughest stallion I ever met… pic.twitter.com/qfSf85hz4V

— Frankie Ballard (@FrankieBallard) November 11, 2013
HUGE thank you to all the brave Veterans who have served or are currently serving our great country! http://t.co/jSLPE0zTaa

— Lee Brice (@leebrice) November 11, 2013
Sending huge gratitude out to all the brave men and women (and their families) who have sacrificed to keep our country safe. #pastandpresent

— Martina McBride (@martinamcbride) November 11, 2013
Have a blessed #VeteransDay Many thanks to you and your families and our friends @airforcereserve You are the backbone of this country.

— Brantley Gilbert (@BrantleyGilbert) November 11, 2013
Happy Veterans Day! So thankful to every man and woman who serve. Special thanks to my brother who's serving now! Love you Jake!

— RaeLynn (@RaeLynnOfficial) November 11, 2013
Happy #VeteransDay! All my thanks to you and your families and my friends at @airforcereserve. You are the backbone of this country.

— ChrisYoungMusic (@ChrisYoungMusic) November 11, 2013
Had a blast @TODAYshow Thank you to all of the men and woman who have served this great country! Happy Veteran's Day! pic.twitter.com/vgnkJdHdRK

— Lady Antebellum (@ladyantebellum) November 11, 2013
To my father, and his father, and to all veterans — thank you for your service. #VeteransDay

— Kristian Bush (@kristianbush) November 11, 2013
To all the Veterans, I am so blessed and grateful to be an American and to be able to live in freedom because of your sacrifice. #thankyou

— Meghan Linsey (@meghanlinsey) November 11, 2013
"All gave some…Some gave all. Some stood through for the Red White and Blue …Some had to fall ". Thank you to all our Veterans.

— Billy Ray Cyrus (@billyraycyrus) November 11, 2013
Happy Veterans Day. I'll never be able to thank those men and women enough for serving our country. But I'll start with "thank you." <3

— Cassadee Pope (@CassadeePope) November 11, 2013
Today I honor my dads 23 years of service in the Army & my grandfathers service in the Korean War. #honor #sacrifice #veteransday

— James Otto (@jamesotto) November 11, 2013
Thinking of our veterans today all the way from Norway. Let us not forget, it's in sacrifice that we are free. #HappyVeteransDay

— The Band Perry (@thebandperry) November 11, 2013
Source:
Country's Biggest Stars Pay Tribute to Our Military on Veterans Day