Country Stars Dress Up, Spoof Each Other for Halloween 2013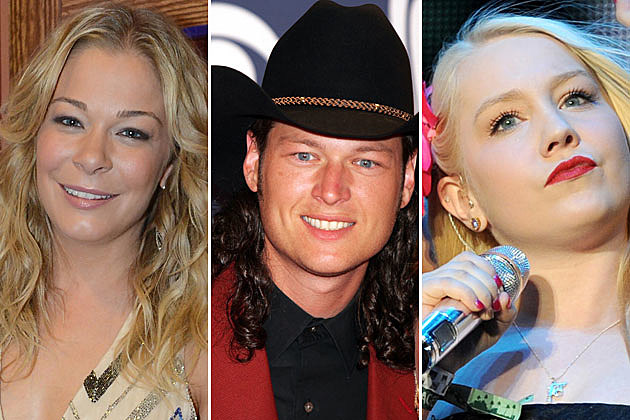 Artists like LeAnn Rimes and RaeLynn spoofed other country stars on Halloween 2013. 'The Voice' singer took a playful jab at Blake Shelton circa 2002, while Rimes and husband Eddie Cibrian dressed as Dolly Parton and Kenny Rogers circa 1983. The most adorable costume pictures, of course, came from the new parents. Hillary Scott, Jennifer Nettles and Chely Wright all shared photos of their tots on Thursday.
Scotty McCreery, Gloriana's Rachel Reinert and newcomer Kacey Musgraves also posted photos of their Halloween looks on Instagram. Early in the day, Jake Owen shared this photo of his baby girl, Pearl. October 31 certainly proved to be a spooky, funny and super-cute holiday for country's biggest stars!
Happy Halloween and may you all find your "Islands In The Stream" #Halloween pic.twitter.com/EVxf3wtOQQ

— LeAnn Rimes Cibrian (@leannrimes) November 1, 2013
Hey @blakeshelton look who I am? Y'all vote for my costume right HERE —-> http://t.co/Zi0pUTcEhN pic.twitter.com/gVgthChPtQ

— RaeLynn (@RaeLynnOfficial) October 31, 2013
Our little lion cub!! #HAPPYHALLOWEEN pic.twitter.com/7DgSbwOwPz

— Hillary Scott (@HillaryScottLA) October 31, 2013
Two peas in a pod pic.twitter.com/X3yIVFBAKc

— Chely Wright (@chelywright) November 1, 2013
WHAT A HALLOWEEN NIGHT me and @jrodfromoz @leebrice @mrBobbyBones @ProducerEddie @98WSIX #BattleForTheBones pic.twitter.com/OJ09N9Ub1z

— Craig Campbell (@craigcampbelltv) November 1, 2013
#halloween pic.twitter.com/qnQt8De6lt

— hayden panettiere (@haydenpanettier) November 1, 2013
Happy Halloween!!!! Me and the girls @ThePinkPistolOK are following the yellow brick road! pic.twitter.com/IkjPoC0Dee

— Miranda Lambert (@mirandalambert) October 31, 2013
We all know MY costume is the best! pic.twitter.com/YLk4c1KOsr

— Craig Campbell (@craigcampbelltv) October 31, 2013
Source:
Country Stars Dress Up, Spoof Each Other for Halloween 2013