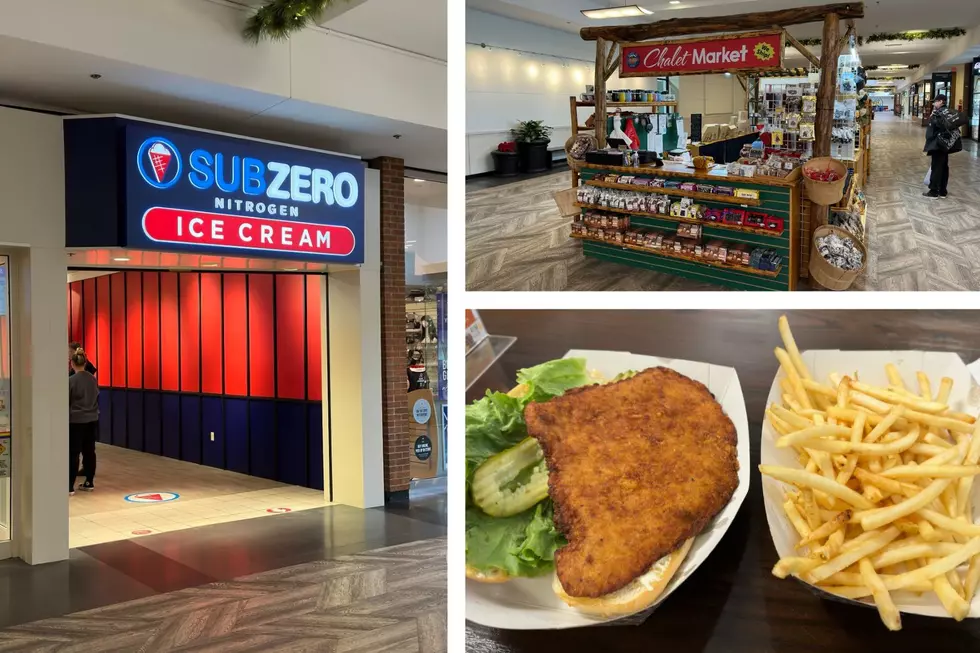 Two Local Gems in Rimrock Mall you SHOULD Support in Billings
Credit: Josh Rath, TSM / Canva
This week, I made my trek back to Rimrock Mall on the west end of Billings, to honor what I've said on Facebook to Rimrock Mall. What was that? I saw Tippy Cow Express had opened within the food court, which previously had pizza... Chinese... and pretzels. Also on my adventure, I wanted to make a point to stop at Sub Zero Nitrogen Ice Cream, as that is one place I REALLY wanted to try on my last visit.
Promises Made, Promises Kept
Last week, after my depressing visit to the mall, I had to try a few of the select gems. Arriving at the mall once more, there it was. Tippy Cow Express. I made sure to take a high-resolution image of their menu just for this article.
And, the tales are true. Everyone told me the portions were huge, and they lived up to that. Absolutely massive for the price.
All in all, Tippy Cow Express lives up to its name. Huge portions and it was a grand total of 10 minutes from order to eating. Friendly service too! Though... I have one thought/suggestion for them.
Offer half portions for the mall.
After eating that massive lunch... I want to sleep. Sure, I could take half of it home with me... but offering that fantastic menu in smaller portions may be better for the setting. But that's purely my thoughts.
One Perk of the Food Court - Available Seating!
This was at noon at the mall, and I found a great seat to enjoy my first Tippy Cow experience. I never made it to the original location due to their non-stop crowds and packed parking lot. After trying Tippy Cow Express, I can see why the original location is always packed.
Frozen, Fresh, and Fruity
After some interaction on our station KBUL's Facebook page, I waddled into Subzero Nitrogen Ice Cream to try it out for the first time ever.
I was greeted by one of the two owners, whom I interacted with online, and we discussed the mall and other aspects of my previous article. They were glad to see I indeed did come to visit, as I said I would on Facebook, and we started going over the menu.
After landing on #8 "Tropical Turbine", I got to see the boss at work making it FRESH before my eyes. Sure, MAYBE I am a sucker for these sorts of things... but you just don't see this anymore. If you go for ice cream at one of the big brand names in town, it is in a bucket that they scoop out of. Not here! The cream is poured out into the bowl, with ingredients, and made just for you.
The end result? Absolutely perfect and delicious. Wouldn't have it any other way, and I ate every bite.
Honorable Mention: Chalet Market Kiosk for the holidays
While waddling around the mall, now stuffed with a pork chop sandwich and ice cream, I came across the newly opened Chalet Market kiosk. Got to try the huckleberry taffy (I'm not a fan of huckleberry... sorry) but it was good to see a LOCAL kiosk!
I hope you shop there for your holiday, Made in Montana, gifts. I do love Chalet in downtown Billings.
One More Thing...
I think it's time for you to update this, Rimrock Mall.
Kiss FM is dead. Long live Mix 97.1. Have your people call our people, and we'll send your people the logo.
Recapping my visit
Sure, I may have been a tad hard on Rimrock Mall before. But I cannot stress enough that this is the mall I grew up with, as did many others across Montana. I drove 4 hours round trip from Miles City, IN THE WINTER EVEN, for this mall. But seeing it as a ghost town is not only hurting me and the thousands that love it...
Here's hoping you, dear reader, will visit the mall and give the remaining businesses a shot. Well... the local ones, at least.
Transparency: I paid for my meal at Tippy Cow Cafe. I attempted to pay, twice, for my ice cream... however the owner refused me after our chat. So, thanks for the free ice cream. :) I also got two pieces of huckleberry taffy for free from Chalet Market.
7 Charming Montana Places to Explore on a Three-Day Weekend
Montana may be a big state that's far away from big cities, but with only three days you can find a lot of places worth exploring. Check out this list of charming locations you might not know about:
Billings Brewery Walking Trail
More From Cat Country 102.9