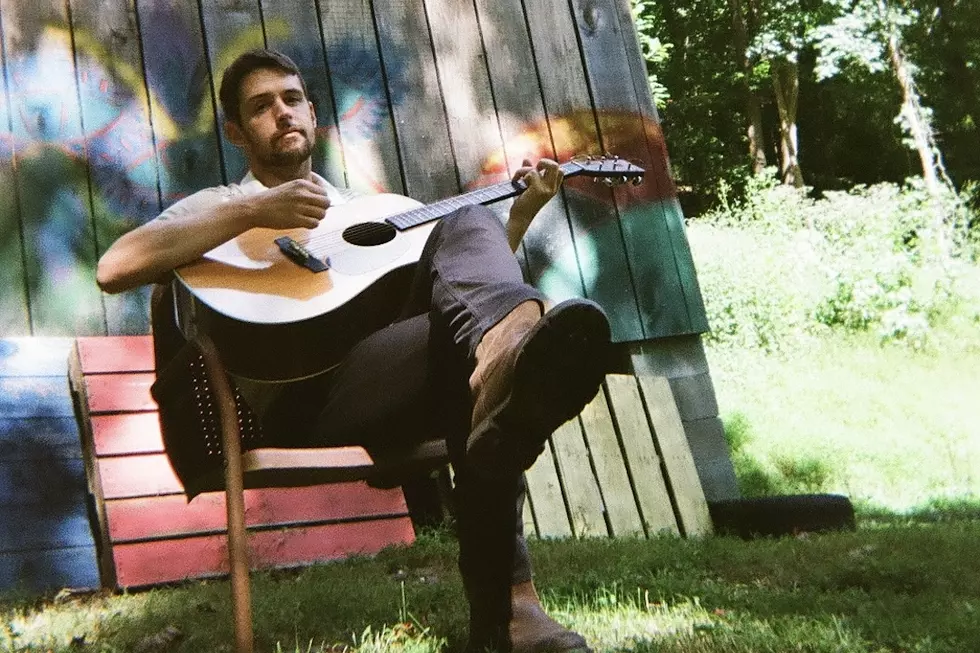 Nicholas Jamerson Lets the Sparks Fly in New Track 'Watching the Fire Burn' [EXCLUSIVE PREMIERE]
Courtesy of the artist
Singer-songwriter Nicholas Jamerson examines a blazing romance in his brand new track "Watching the Fire Burn," premiering exclusively at The Boot today (Jan. 16).
The Eastern Kentucky native uses richly layer accompaniment and vivid lyrical imagery to introduce listeners to two characters intertwined by an irresistible and lasting connection. Their bond is still strong, seemingly beating the odds and predictions driven by neighborhood gossip.
"They said loving that girl is bad news / She'll run ya half to death," Jamerson offers. "But I don't believe that stuff / No matter what the whole town says." 
Listen below:

"Watching the Fire Burn" is the latest cut from Jamerson's upcoming album, Peace Mountain, due out May 19. In November, the multi-talented musician and former member of country duo Sundy Best shared the record's captivating title track, which features the talents of fellow lyrical poet Charles Wesley Godwin.
Peace Mountain is the follow-up to Jamerson's stunning 2020 LP The Wild Frontier, which he says was thematically centered around the process of "finding faith." In contrast, his upcoming record focuses on practicing that newfound faith.
Jamerson notes that the creation of Peace Mountain "was about making peace with life. Trusting work that has been done, along with choices that were made and enjoying the process."
You can find a full list of Jamerson's upcoming tour dates in support of Peace Mountain at his official website.
Nicholas Jamerson, Watching the Fire Burn Track List:
1. "Bad Imagination"
2. "Billy Graham Parkway"
3. "Good Ol' Fella"
4. "Hang On"
5. "Lexington'
6. "Watching the Fire Burn"
7. "I Love Blue" (feat. Magnolia Boulevard)
8. "Wild Nights, Weird Mornings"
9. "Strangers"
10. "Mr. Buzzard"
11. "Wild One"
12. "This Ain't Supposed to Happen In Our Town"
13. "Peace Mountain" (feat. Charles Wesley Godwin)
Top 10 Billy Strings Songs
Billy Strings
is one of those once-in-a-generation artists who revitalize their genre with the scope of their talent and original perspective.
While to some, it may have seemed like Strings appeared on the bluegrass scene suddenly, his connection to the genre was far from new. Strings began playing guitar at five years old, thanks to the influence of his father, Terry Barber. Strings learned the bluegrass songs that were the soundtrack to his rowdy family's life, along with metal and classic rock favorites.
Born and raised in a small town in Michigan, Strings' childhood was marked by difficult losses and hard times as his parents struggled with meth addiction. As a young adult, Strings dealt with his own addiction issues but was later able to find sobriety.
He eventually left home and found his way to Nashville, where he gained his first exposure playing with mandolin player Don Julin. After four years with Julin, Strings went solo. Critical acclaim quickly followed.
From 2016 to 2022, Strings released one EP and four albums. Two of his records, 2019's Home and 2021's Renewal, have been nominated for Grammy Awards, with Home earning the top prize. He has also won an Americana Music Award and numerous International Bluegrass Music Awards, among other significant accolades.
At the young age of 30, Strings has created a remarkable legacy, and we can't wait to see where he goes from here.
More From Cat Country 102.9