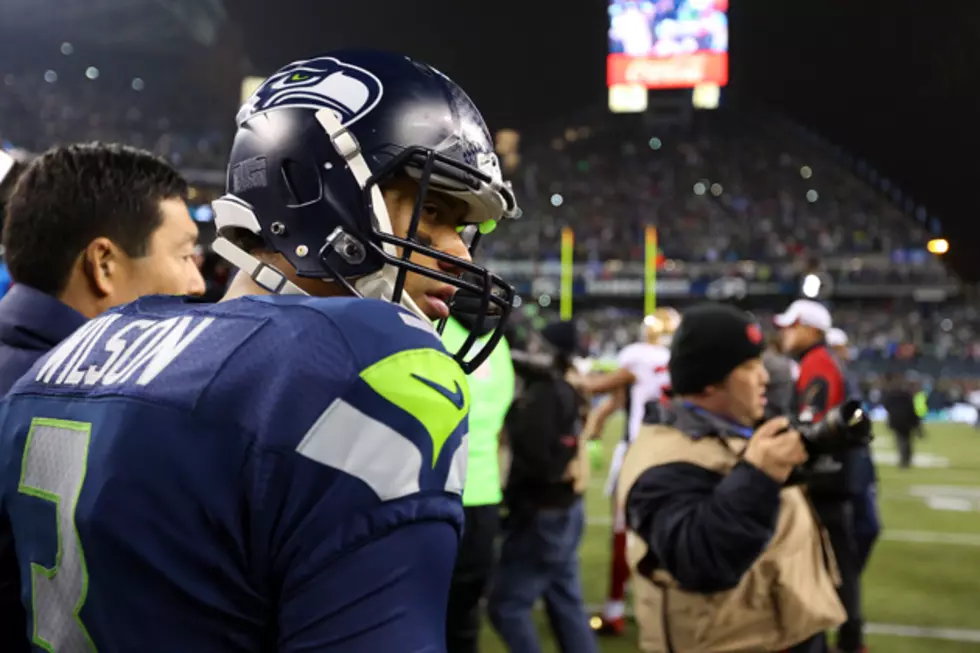 Seahawks QB Russell Wilson Playing for Young Father Who Lost Life to Cancer
As the last two NFL teams left standing get ready for Super Bowl XLVIII, media coverage will analyze every possible storyline, particularly those about preparation, commitment and sacrifice. A young widow, no stranger to the same things, will be at Metlife Stadium in New Jersey to watch the Seahawks play the Broncos, but her path to the NFL's biggest game has been no ordinary journey.
Alyssa Magnotti lost her 27-year-old husband, Nick, a lifelong Seahawks fan, to cancer just two weeks ago and is now left to raise their 10-month-old daughter, Austyn, on her own. But to hear the message she continues to spread in his absence, it's obvious she has gained much more through her loss. The Magnottis documented the ups and downs of Nick's battle with mucinous adenocarcinoma, the rare form of cancer to which he ultimately succumbed.
Last November, in the final weeks of Nick's life, Alyssa was able to offer an inspiring and poignant glimpse into the mindset of a dying man:
Word of Nick's story eventually spread all the way to the Seahawks locker room, where the players showed their support in a video birthday message for Nick. His favorite player, quarterback Russell Wilson, even included him in their Super Bowl plans, saying, "Hopefully we can bring a Super Bowl home for you, Nick."
I want people to know that my positive attitude can outlast this and that my faith in God can keep me strong even through hard challenges.
Even in her grief, Alyssa has been met with unexpected blessings. Just last week, she discovered that an anonymous donor had given her two tickets to the Super Bowl, along with airfare and hotel:
This coming week, I will be making my way over to New York with Nick in my heart, praise on my lips and wearing as much Seahawks gear as I possibly can! Wish me luck! And, let's win it for Nick! GO HAWKS!
There's no better time for Russell and Co. to bring home Seattle's first-ever Super Bowl title than with Nick's biggest fan sitting on the sidelines and him watching from above.
To learn more about Nick Magnotti's story and Alyssa's journey to the Super Bowl, visit their website.
More From Cat Country 102.9