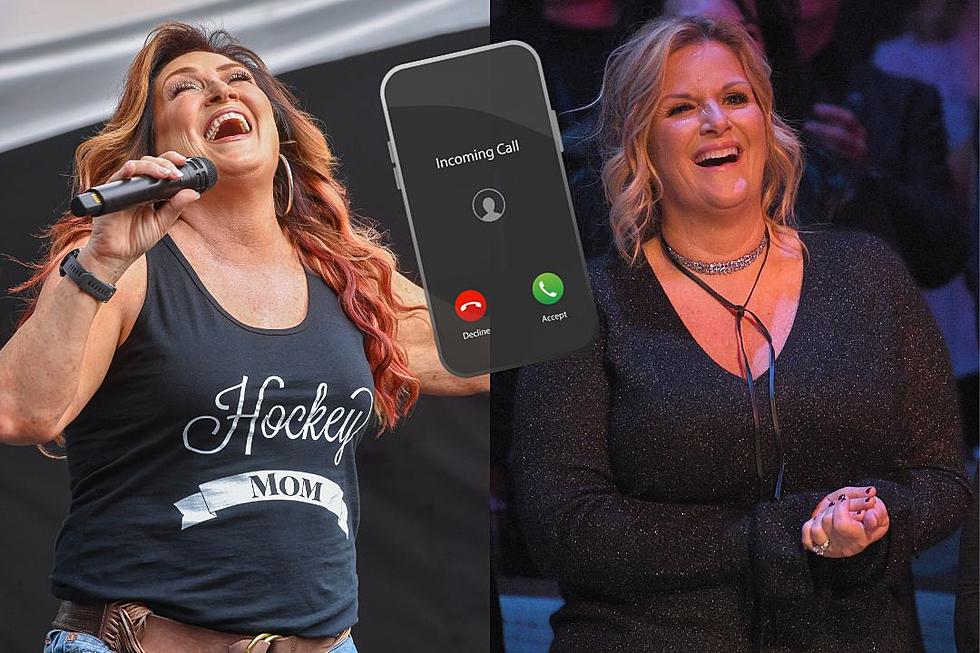 Jo Dee Messina Recalls Hilarious Story of Calling Trisha Yearwood at the Most Awkward Time
Jason Davis ,Terry Wyatt, Getty Images
Jo Dee Messina's light shines brightly in the country music community — she is a pillar of positivity and hope, and a joy to be around, from an interviewer's standpoint.
Recently, the '90s hitmaker was in the Taste of Country Nights studio for a chat, and she recalled a hilarious story of how she once FaceTimed Trisha Yearwood ... while live on stage.
I asked Messina to imagine this: It's the 1990s again, and she is calling a country radio station to make a song request. Only, it can't be hers — and what would she choose? Her reply? A well-known Trisha Yearwood hit.
I then wanted to know if she and Yearwood are friends, and she confirmed that yes, they absolutely are.
"Yes, we are, I can text her right now. She's in Vegas, so she's asleep," Messina explained.
She giggled to herself and started telling a story about how she once played a show in a massive club that held like 3,500 people, "and before the show, they played 'She's in Love With the Boy" over the PA system, and they [the crowd] went nuts — they were singing it so loud," Messina remembers. "So I went out on stage and I called Trisha — I FaceTimed her. I was like, 'Hey Trisha, these people have got something they wanna say!'"
"The band started playing 'She's in Love With the Boy," Messina explains, "but I let the audience sing, she was in the gym, by the way, she was like sweating with no makeup on."
"I'm surprised she didn't kill me!"
Messina turned her phone to the crowd so Yearwood could see them singing her song, and who was on the other end of the line. She says it was such a fun and funny moment to share with her fellow star.
You can hear this portion of the podcast on Taste of Country Nights, On Demand wherever you get your podcasts from.
Evan Paul is the host of Taste of Country Nights, a syndicated radio show heard on more than 120 country radio stations nationwide, every night from 7PM to midnight. He plays the best new country music and interviews today's top stars, like Luke Combs, Miranda Lambert, Dan + Shay, Keith Urban, Carrie Underwood, Luke Bryan, Chris Stapleton, Lady A, Morgan Wallen, + more! 
PICTURES: See Inside Trisha Yearwood's $4.5 Million Historic Southern Manor
Trisha Yearwood is selling her historic Southern manor home, and pictures show a mix of elegance and down-home living.
See 50 Essential '90s Country Songs
If you call yourself a real fan of '90s country music, you probably need to know the words to all of these hit songs.
See Inside Garth Brooks and Trisha Yearwood's Malibu Beach House:
Garth Brooks
and
Trisha Yearwood
's former beachside house in Malibu offered a gorgeous vacation paradise for the country music power couple to relax.
Brooks and Yearwood bought their 4-bedroom, 3.5-bathroom, 4,200-square-foot house in Malibu for slightly less than $5 million in June of 2008. The house itself is fairly modest, but very well-appointed, featuring an open floor plan.
The living room boasts a corner fireplace and multiple sets of French doors that open to the backyard. The kitchen includes marble countertops, while skylights offer plenty of natural California sunlight. The den features floor-to-ceiling bookshelves on either side of a fireplace of white brick.
The backyard is spectacular, featuring a loggia, an outdoor fireplace, a half-court basketball court and elaborate landscaping. The house provides direct access to the world-famous Malibu beach via a set of steps.
The couple sold the house in Malibu in late 2016 for $7 million.
More From Cat Country 102.9