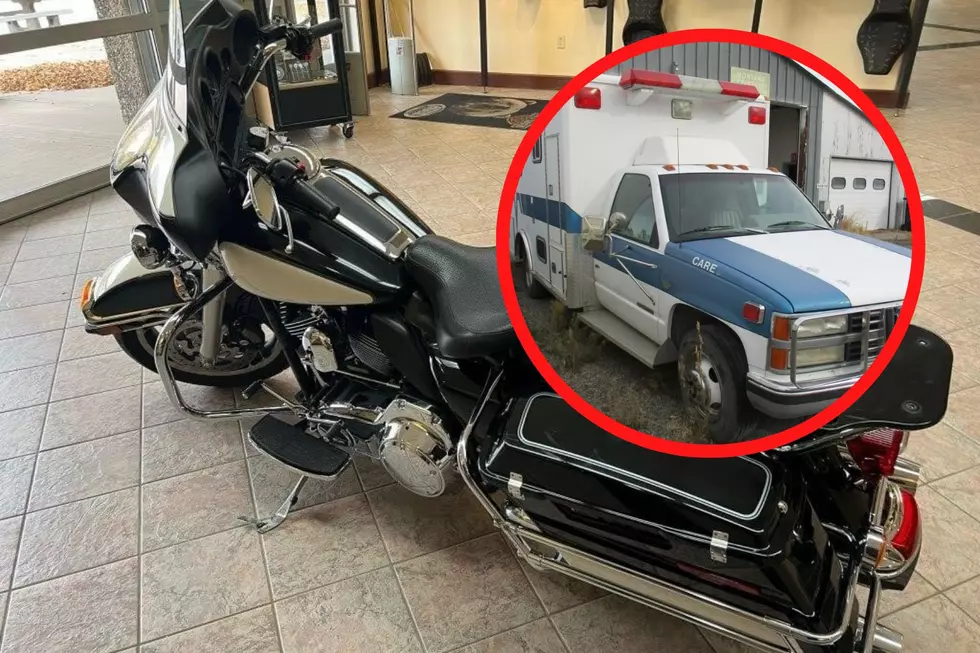 Old Cop Cars? A Harley? Laurel City Auction Has Cool Stuff
Credit: Moore Montana Treasures
Montanans love auctions.
From cattle auctions and estate auctions, to live and silent charity auctions, Montanans love a good sale. Sometimes referred to redundantly as an "auction sale", I find auctions quite fun in real life. With the auctioneer's quick cadence and buyers waving, nodding, or flicking their bidding number, it's fun to see who eventually taps out and who wins the bid.
Nowadays most auctions are held online, which seems to take some of the fun out of the experience. However, you can still find some awesome deals on unique stuff. For example, at the City of Laurel Surplus Vehicle and Equipment Auction, happening now. From old cop cars to completely random items, you've got to check out some of this stuff.
1998 Chevy Tahoe
"Ran when parked," says the listing. Diesel motor, mileage undeclared.
Childs Metal Frame Bunk Bed
With a new Sealy mattress, according to the listing.
2009 Chevy Impala cop car
It takes a certain kind of buyer to purchase former cop cars. Are you one of those people? "Ran when parked," according to the listing. Spotlight included.
1993 Chevy Ambulance
"Runs, diesel." We have a former ambulance in our radio station fleet of vehicles, and let me tell you... they're pretty cool. Think of the possibilities! Some people turn them into campers. They get repurposed into work vehicles. Or perhaps you'd like to convert it into the ultimate tailgate rig? The auction includes numerous ambulances in various conditions.
2010 Harley Davidson Electra Glide
Wait... what?! This police-edition Harley has extremely low (7,864) miles and from the photos, it appears to be in excellent condition. The current bid (as of 11/3) is at just $4,000.
Construction Roller
Do I need a steam roller? No. Do I WANT my own personal steamroller? Absolutely! Unknown year, "ran when parked."
2004 Dodge Stratus
There is a handful of cheap cars on the auction, including this little Stratus. Most of them say "ran when parked", but if you're a shade tree mechanic you might be able to score an affordable used vehicle.
Anvil and Black Smithing Tools
I'm not sure how (or why) the City of Laurel came to possess a huge, old-timey blacksmith anvil, but this piece is pretty cool.
1986 Ford Dump Truck
Everybody could use a dump truck at some point. This gas-powered beauty still runs.
25th Anniversary Pontiac Firebird
I remember when this was the cool car to have in high school. This one on the auction has a 5.8 liter V8, T-tops, 58,000 miles, and still runs. All you need is a mullet and the winning bid, and this beauty is yours. The online auction is hosted by Moore Montana Treasures and soft bidding begins to close at 6 pm on 11/29. You can browse all 42 lots HERE.
Montana Winter Emergency Travel Kit
More From Cat Country 102.9