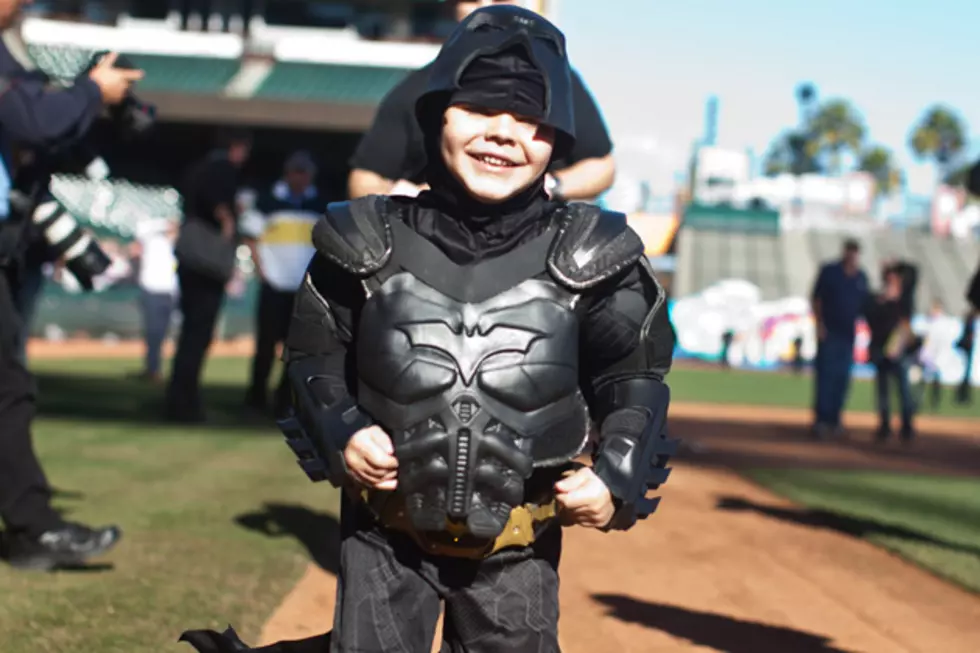 2014 Oscars: Batkid's Appearance Was Unexpectedly Canceled [UPDATE]
Getty Images
Ellen DeGeneres certainly gave the 2014 Oscars ceremony the majority of its highlights, but audiences were left without a major "wow" moment -- and now we know why. The lovable and adorable Batkid, who took the world (and the internet) by storm, was originally supposed to make an onstage appearance alongside 'The Amazing Spider-Man 2' star Andrew Garfield, but his segment was canceled at the last minute. So what was the reason behind the cut?
For the uninitiated, Batkid's alias/not-so-secret identity is Miles Scott, a 5-year-old leukemia survivor who, through the generosity of the Make-A-Wish Foundation, was transformed into Batkid for a day. His adventures in saving San Francisco from the Penguin, Riddler and more dangers were well documented and turned this little boy into a viral sensation.
The original plan for the 2014 Oscars was to include one of three planned superhero-themed segments, one of which involved Batkid and Andrew Garfield. According to Batkid's parents, however, his appearance "got pulled so quickly that we didn't have a lot of insight into what was going on." In his stead, 'Captain America 2' star Chris Evans was called in to sub for the duo and introduce the superheroes montage.
The official statement from the Academy of Motion Picture Arts and Sciences, as given to E!, behind the cancellation reads:
Due to the nature of a live show, hard decisions sometimes must be made which require the Academy to cut segments due to the logistics of production. Andrew Garfield understood that his segment had to be omitted, and he drove to Disneyland on Monday to spend time with 5-year-old Miles Scott [Batkid] and his family.
UPDATE: Despite an earlier report from Page Six that said Andrew Garfield was the one who pulled the plug on the segment by not complying with the planned script, the actor's rep released a statement, saying:
In full collaboration with the Academy and the show writer, Andrew prepared a segment for the Oscars to honor Miles Scott as the true hero that he is. At some point overnight on Saturday/Sunday morning, it was decided by those running the show that the segment didn't work in the ceremony. They decided to pull it - Andrew and Miles were equally upset.
While we were still entertained by Meryl Streep, Jamie Foxx and Lupita Nyong'o shaking a tail feather alongside Pharrell, as well as John Travolta famously flubbing Idina Menzel's name, the night would've been that much more bright with an appearance from Batkid.
More From Cat Country 102.9