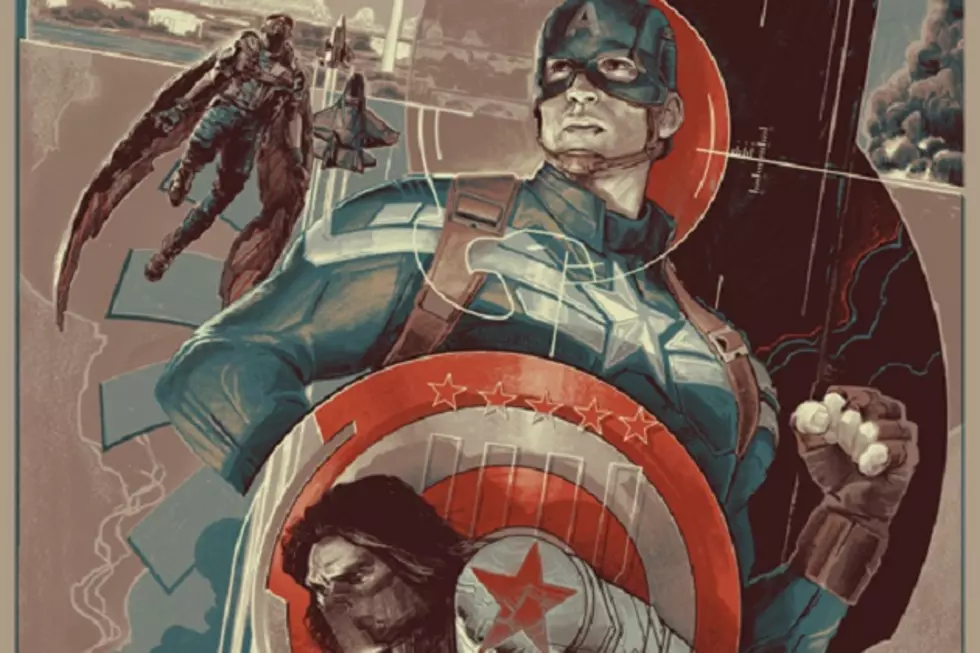 'Captain America 2′ Gets the Mondo Poster Treatment as Advanced Ticket Sales Surge
Marvel/Mondo Tees
As we're mere hours away from the release of 'Captain America: The Winter Soldier,' it's fitting that Mondo has announced that tomorrow they will be selling two Rich Kelly-designed posters for the movie, which is poised to break all previous April box office records.
This is the original version and will be available for $45, while here is the variant:
This one is available for $75, and both will be made available to purchase tomorrow, Friday April 4, starting when the Mondo twitter account announces their availability. And if you've never purchased anything from Mondo before, it's worth keeping an eye on as these are likely to sell out quickly.
By all accounts the 'Cap 2' is poised to be a huge success. The Hollywood Reporter announced that the film is outpacing 'Fast Five' in advanced ticket sales. 'Fast Five' opened to over $86 million en route to a a near-$210 million total, and currently holds the record for the highest April opening and the biggest April total. Currently, 'Captain America 2' is predicted to open to over $90 million, with some guessing the film will clear a hundred million over the three day.
That would be a huge improvement over the first film, which opened to $65 million on its way to a $176 million domestic total. The film is also looking to outpace the first film worldwide: The first film made nearly $194 million overseas, while the sequel -- which opened this past weekend in thirty two markets -- has already made a hundred million internationally. 'Captain America: The Winter Soldier' opens April 4.
More From Cat Country 102.9