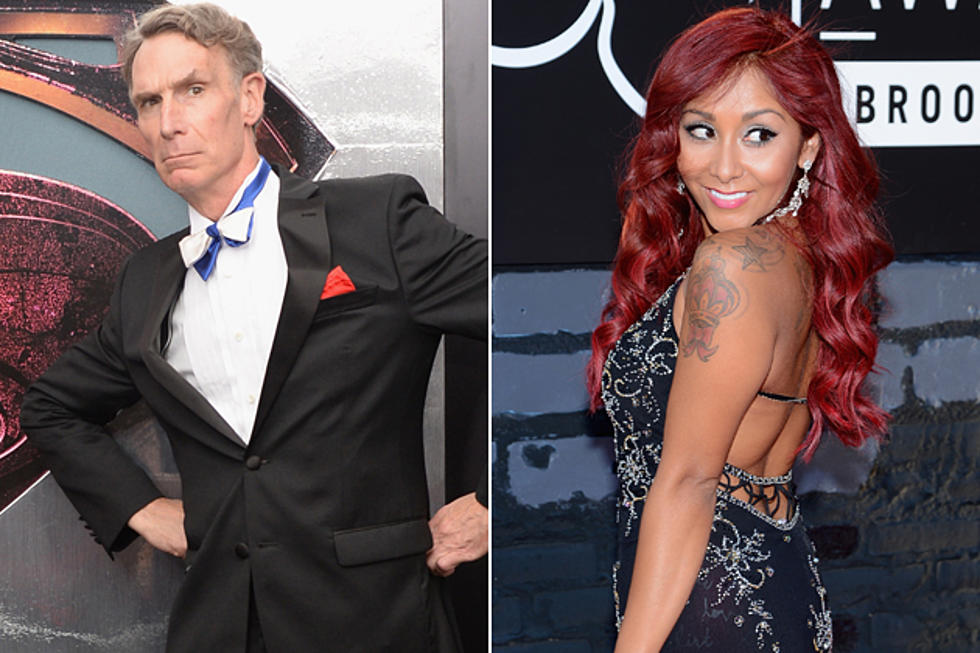 Bill Nye and Snooki on 'Dancing With the Stars'? Season 17 Announces Cast
Getty Images
The folks behind 'Dancing With the Stars' announced the cast for the upcoming season 17 Wednesday morning on 'Good Morning America,' and there were some surprise names on the list, including Bill Nye the Science Guy and Snooki herself.
Bill Nye has been a point of controversy recently, due to public statements he's made on teaching creationism in schools, and Snooki, of course, is Snooki. Though, they're not the only unexpected contestants this season. 'Dancing With the Stars' will also see 'Glee' star Amber Riley (Mercedes) take the stage, following her downgrade from series regular on the hit FOX show for season 5.
For the first time, 'Dancing With the Stars' season 17 has combined both the performance and results portions into one two-hour episode every Monday night. The eliminated couple will be determined by the judges' scores that night and voter results from the previous week.
Here's the full roster for the new season:
Valerie Harper ('The Mary Tyler Moore Show')
Nicole "Snooki" Polizzi ('Jersey Shore,' 'Snooki & JWoww')
Keyshawn Johnson (former NFL Super Bowl champion)
Leah Remini ('The King of Queens')
Jack Osbourne (TV personality)
Christina Milian (singer)
Amber Riley ('Glee')
Bill Nye (The Science Guy!)
Elizabeth Berkley Lauren ('Saved By the Bell')
Corbin Bleu ('High School Musical')
Brant Daugherty ('Pretty Little Liars')
Bill Engvall (comedian)
'Dancing With the Stars' season 17's two-hour premiere drops Monday, September 16 at 8 p.m. on ABC.
More From Cat Country 102.9