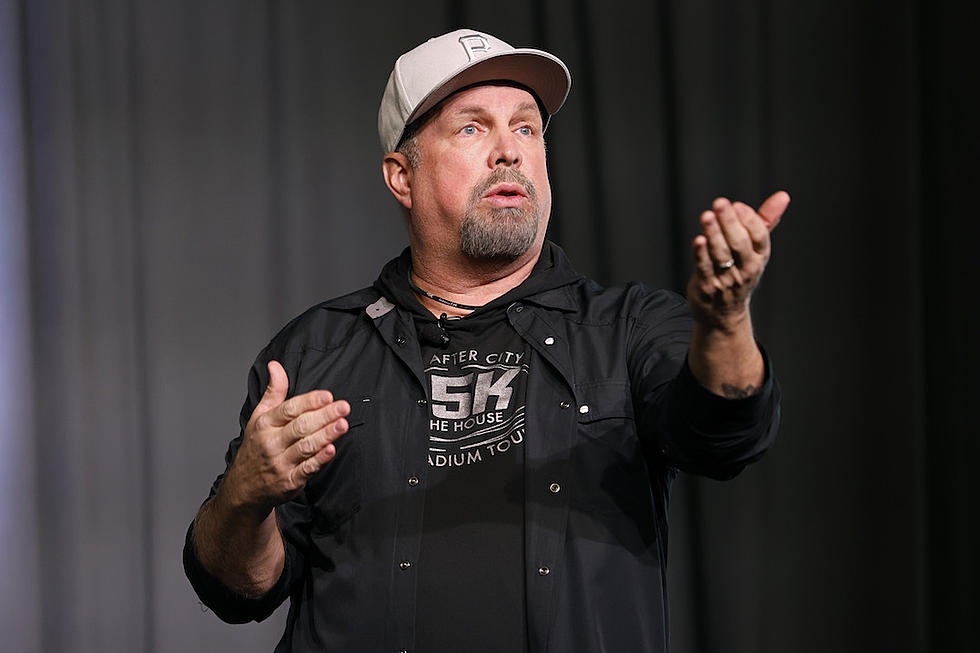 Garth Brooks Isn't Banning Bud Light From His Nashville Honky-Tonk
Jason Kempin, Getty Images
Garth Brooks' Friends in Low Places Bar & Honky Tonk is still under construction in downtown Nashville, but the country star wants to make clear what kind of atmosphere he plans to create for visitors.
During a live Q&A session at Billboard Country Live: In Conversation, the country star made a not-so-subtle reference to the recent manufactured controversy over Bud Light's collaboration with transgender social media influencer Dylan Mulvaney.
"Yes, we are going to serve every brand of beer," Brooks told the crowd, garnering a mixed response. "It's not our decision to make. Our thing is this: If you come into this house, love one another. If you're an a--hole, there are plenty other places on Lower Broadway [to go]."
Big & Rich singer John Rich, who owns the Lower Broadway bar Redneck Riviera, has been outspoken on social media about his intentions to stop selling the product in protest. Kid Rock, another conservative-leaning figure and Nashville bar owner, also made headlines for sharing a video of himself shooting several cans of Bud Light with a semi-automatic rifle.
When Brooks was asked if he wanted to clarify which bars he was referring to by name, he politely declined.
"No, but I will tell you this," he continued. "The reason why Lower Broadway is a blessing and a curse, the good and bad, is the police presence down there. You've gotta love this city, because it's a big city attitude with a little, little town kind of love in it. This is a beautiful place, and Nashville is going to be boiling for the next 20 years."
Brooks' bar and entertainment venue will include an adjacent Metro Nashville Police Department substation, a deliberate choice made so "everybody can see it" when they are in the area.
The country star says he shrugged off concerns that the added police depot would take away too much attention from his own business.
"I was like, those are the letters you want the biggest, right? If somebody's having trouble, you want to see it."
He reiterated his love for those who choose to serve and protect, along with his hopes for the city's future.
"What I love about our men and women in blue here is they come with a conversation," he said. "I don't know if you have any runs with the police, but they're always, they're always mindful about it. And I love that approach. So my thing is, let's get 'em all down there so Broadway doesn't have to be a zoo."
With the opening of Friends in Low Places, Brooks hopes he can help build a space that's welcoming and safe for country music fans of all ages.
"Let's create a place that you feel safe in, [where] you want to bring your kids, because they are the future," he explained. "I love to see kids roaming Broadway with their parents and going into the Country Music Hall of Fame with their parents because, like rock and roll, this genre will not die. We cannot allow that to happen."
See Inside Garth Brooks and Trisha Yearwood's Malibu Beach House:
Garth Brooks
and
Trisha Yearwood
's former beachside house in Malibu offered a gorgeous vacation paradise for the country music power couple to relax.
Brooks and Yearwood bought their 4-bedroom, 3.5-bathroom, 4,200-square-foot house in Malibu for slightly less than $5 million in June of 2008. The house itself is fairly modest, but very well-appointed, featuring an open floor plan.
The living room boasts a corner fireplace and multiple sets of French doors that open to the backyard. The kitchen includes marble countertops, while skylights offer plenty of natural California sunlight. The den features floor-to-ceiling bookshelves on either side of a fireplace of white brick.
The backyard is spectacular, featuring a loggia, an outdoor fireplace, a half-court basketball court and elaborate landscaping. The house provides direct access to the world-famous Malibu beach via a set of steps.
The couple sold the house in Malibu in late 2016 for $7 million.
10 Artists You Didn't Know Had Cut Garth Brooks Songs
Garth Brooks has written quite a few of his own hits, but a number of other artists have cut his songs, too ... and not just country singers.
More From Cat Country 102.9