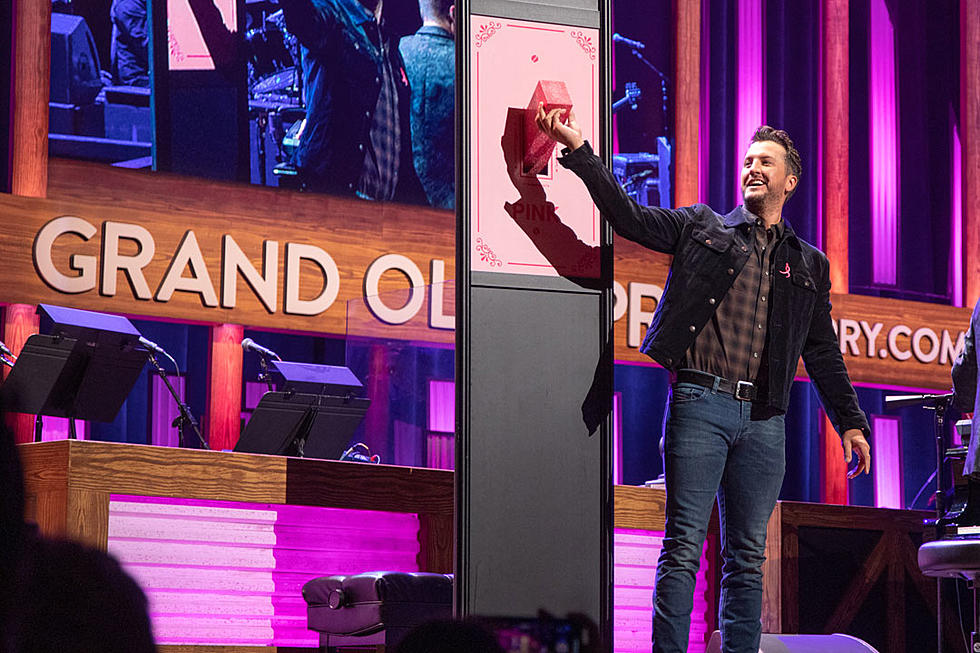 Luke Bryan Flips the Switch to Turn the Grand Ole Opry Pink
Schmidt PR
Luke Bryan's Grand Ole Opry performance on Tuesday night (Oct. 22) was personal for more than one reason. The "Knockin' Boots" singer flipped the switch to turn the Opry pink for breast cancer awareness month, also sharing that while no one in his immediate family has been affected by breast cancer, he doesn't have to look far to find people who have.
"The big thing that I always notice is the fans at my concerts that have a sign up, they have a pink sign, 'Last chemo treatment today,'" the singer shares. "That always is something that I leave the show with."
Some of those fans were in the audience on this night, too. While nobody held up a sign, the crowd was dotted with survivors who appreciated the theme of the evening. Craig Morgan, Sara Evans and the Oak Ridge Boys were among the other artists that helped turned the Grand Ole Opry pink, an October tradition in Nashville. The loose spirit of performances at the Opry inspired how Bryan approached his set.
"My first Opry show, Vince Gill stopped by unannounced and he just walked out and brought a guitar," Bryan says. "I've wanted to do that for years. I've just wanted to just not have my band, just have guitar and piano. So I'm just going to go play guitar and piano tonight."
Hits like "Do I," "Play It Again" and "Most People Are Good" were part of his stripped-down 30-minute set. A surprise came before he sat behind the piano. Executives from the ACMs were on hand to present Bryan the Album of the Decade Award for Crash My Party (2013). Appropriately for the honor (and the night), Bryan closed with a piano version of "Drink a Beer," a No. 1 hit from his most popular record to date.
Bryan is believed to be working on new music. Talking to Taste of Country in September, he shared that his next album is likely to be a little shorter than his previous records.
WATCH: Luke Bryan Talks New Music
Country Stars Who've Been Affected by Cancer
More From Cat Country 102.9