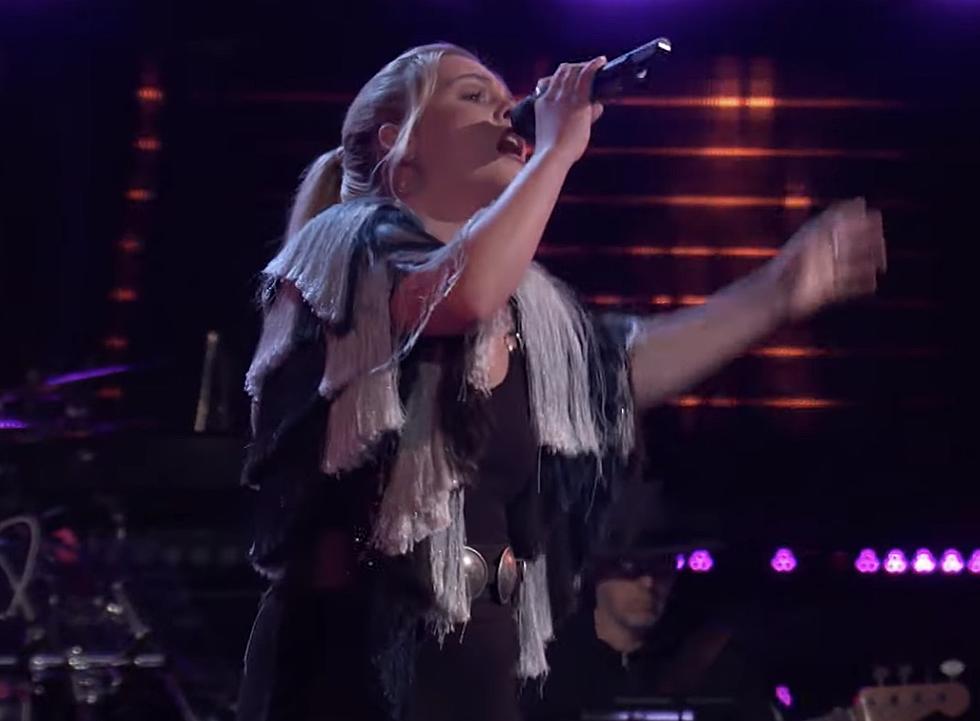 'The Voice': Kyndall Inskeep Spurs Gwen Stefani to Block Blake Shelton
YouTube/NBC
The Voice Season 17 kicked off Monday (Sept. 23) with the famed blind auditions—allowing returning coaches Blake Shelton, Kelly Clarkson and John Legend, as well as returning alum Gwen Stefan, to take cracks at their initial team builds. A highlight of this particular season is the rivalry between real-life partners Shelton and Stefani, who have both vowed that they will not go easy on each other in their respective quests to win.
After an earlier tussle in the evening involving contestant Kat Hammock (Blake won that one), Stefani got her moment not too soon after.
That happened when 22-year-old Kyndal Inskeep took the stage. "I suffered a lot with anxiety and depression from a very early stage of my life," explained Inskeep. "My biological father and my mother divorced when I was 18 months. My mom got remarried when I was 5, and it messed with me a lot. He had two children from a previous marriage, and they had one together.
"I felt deserted. I saw my other siblings being loved and worshipped by their biological father," she continued. "Music changed that for me. It was my therapy. It definitely pulled me out of the dark depression that I was in. I love my mom and my stepdad. Even when it was very difficult to support me, they supported me."
Inskeep took the stage with a version of Hoyt Axton's 1971 tune "Never Been to Spain," which was more famously covered by Elvis Presley and Waylon Jennings. The song contains the lyric "I've never been to heaven, but I've been to Oklahoma," which had Oklahoma native Shelton turning and yelling "Oklahoma!" at the top of his lungs.
Unfortunately, he was thwarted immediately by his girlfriend Stefani, who turned and neatly blocked him, much to the amusement of the audience. Clarkson also turned, spurring Shelton to grudgingly admit, "I'm very happy if Gwen gets you. Kelly, I don't care as much."
Stefani put forth a bubbly cheering section, noting, "I think my favorite thing about your voice is just your vibrato, and the style is very distinctive. That's what's gonna set you apart on the radio because you don't sound like anybody. You just sound like you." Not surprisingly, Inskeep decided to go with Stefani. 
We'll be following along each week to keep up with the Season 17 competition, so be sure to check in weekly to check the progress of your favorites on the show.
6 Unforgettable 'The Voice' Moments
Here Are the 10 Most Successful Country Singers from The Voice:
More From Cat Country 102.9