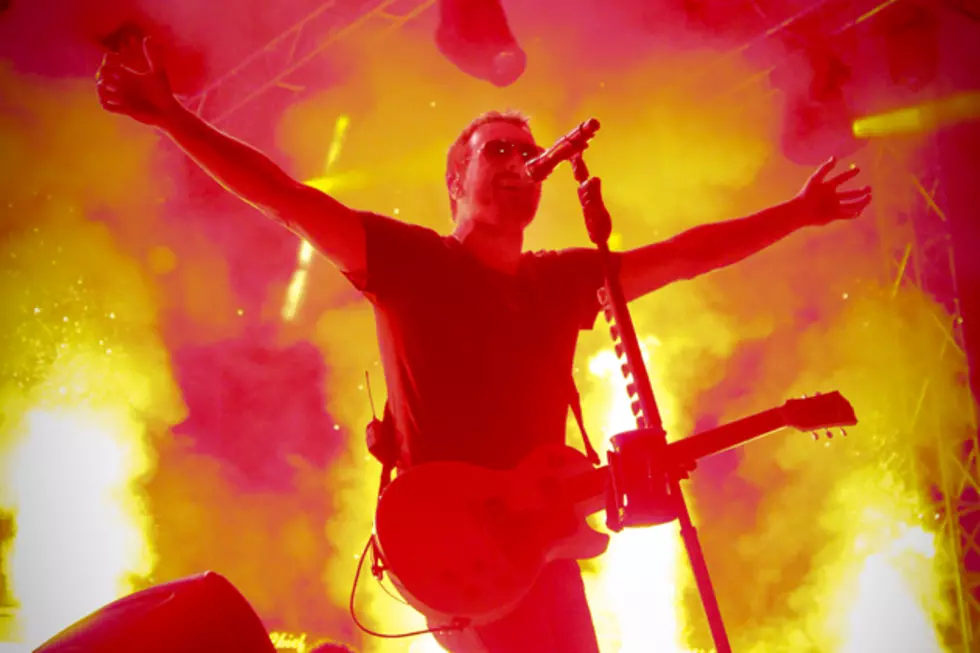 Eric Church, Jerrod Niemann + More Fire Up Country Jam Colorado Crowd [Pictures]
Clark White for Country Jam Colorado
Eric Church sure knows how to make an entrance. The 'Cold One' singer walked unassumingly on stage Saturday night at Country Jam Colorado, picking the electric intro to 'The Outsiders.' Within moments his band had filed in, preparing for a chorus that was explosive -- literally.
Flames shot to the Country Jam stage roof as the singer tore through the title-track from his most recent album. There may not be a better tone-setter than this song, and while Church backed off for ballads like 'Homeboy' and later 'Springsteen,' that surge of energy was never out of arm's reach.
'Talledega,' 'Give Me Back My Hometown,' 'Dark Side' and 'Wrecking Ball' were amongst the tracks from 'The Outsiders' that made his set. The latter came during the encore, which ended with the fan-favorite single from 'Carolina,' 'Smoke a Little Smoke.' Even when he slowed it down it felt like his boot was still firmly on the accelerator, pushing it through the floor at times, like during 'How 'Bout' You' and 'Drink In My Hand.'
Prior to his set Jerrod Niemann brought the biggest crowd of the night. Playing his rowdy hits like 'Drink to That All Night' and 'One More Drinking Song,' plus ballads like 'Only God Could Love You More' and 'What Do You Want,' Niemann worked through a roller coaster of emotions. Covers of Waylon Jennings and other country legends rooted his set, which at times gets away from traditional country music with songs like 'Donkey.'
Craig Morgan, Craig Campbell, Jamie Lynn Spears and American Young all took the stage earlier in the day. Spears and American Young stuck around to see Church -- Jon Stone and Kristy Osmunson of AY even played a post-concert set at a side stage that included a surprise appearance from Niemann. Taste of Country is still confirming rumors that Stone was seen partying in the campground as late as 6AM Sunday morning.
More From Cat Country 102.9