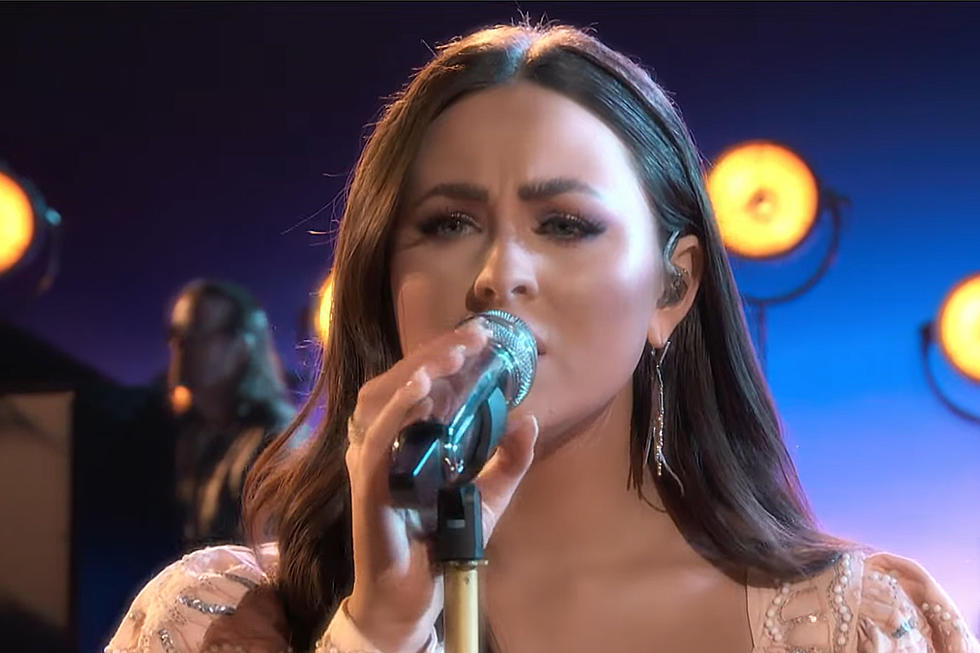 Standout Country Singer Holly Brand Exits 'The Voice' After Impressive Reba McEntire Classic [Watch]
YouTube
Holly Brand, who represents Team Kelly Clarkson, stepped into some big shoes during her live performance on Monday night (May 15) as part of the Season 23 Live Top 8 semi-finals of The Voice.
Crossing her fingers for a spot in the coveted Top 5, she tackled Reba McEntire's "Rumor Has It" — a '90s track from the country icon's album of the same name.
Interestingly, McEntire, who was just announced as Blake Shelton's replacement following his retirement from the show, appeared on the episode briefly to chat about her upcoming role on the program. However, she did not comment on Brand's rendition of her song during the two-hour telecast.
"Rumor Has It" was handpicked by Brand because she felt she hadn't showcased the storyteller side of her artistry yet during the heated competition. She wanted to convey the story of a heartbroken woman.
Onstage, the 23-year-old country music hopeful from Mississippi wore a sequined pink dress and captivated the audience with her natural country twang, stellar vocal range, and impressive long notes. She threw all of her emotion into the song while providing a bare-bones take on the tune, with a few acoustic musicians accompanying the arrangement.
Brand received plenty of praise from the judges after her shining moment, but her take on the song, unfortunately, didn't send her through to the finale.
"That was impeccable. Reba would be very happy with that for sure," coach Niall Horan said. "I love the way you stripped it back. It was very nice. I've always been a huge fan of yours. Every time you step up there, I've heard more parts of your voice than I've ever heard. You really sold the story too. You're incredible. It's insane."
Chance the Rapper added, "It was an awesome performance. What I really noticed was the breath control. You had a lot of long notes, and you killed a whole performance. It was amazing."
"I am so proud of you. I didn't even think it could get better than all of the rehearsals going back and forth with them and on the phone, with texting and singing different things you've been doing behind the scenes," Clarkson added. "You're so gifted. You're one of those artists I love working with because I already think you're fantastic. But then you come out here in the lives, and you're such a competitor. It brings your A-game to a whole different level. You are incredible, and that is a hard song to sing."
Before singing in front of the live studio audience, Brand shared her excitement about being a part of the show.
She said, "To be in the live shows is absolutely crazy. This is the first round that is not only live, but also not in the hands of the coaches. I definitely am nervous but I'm feeling a lot more pressure this time."
Brand was one of three artists sent home during the live semi-finals episode. She, along with Team Niall's Ryley Tate Wilson and Team Chance's Ray Uriel, had to say goodbye to the competition. Those still in the running for the top prize include Team Blake's Grace West and NOIVAS, Team Clarkson's D Smooth, Team Chance the Rapper's Sorelle, and Team Niall Horan's Gina Miles.
The Voice returns on Monday (May 22) with part one of the two-part finale, beginning at 7PM CT on NBC. The winner of Season 23's The Voice will be named on Tuesday night (May 23).
Blake Shelton's Winners From 'The Voice': Where Are They Now?
How many of the eight Team Blake winners from
The Voice
can you name?
Blake Shelton
is the show's winningest coach, and several have had hits at country radio and beyond. Several more have shifted genres, changed their name or just flat-out gone missing. Here is the latest on every Team Blake winner from
The Voice.
More From Cat Country 102.9