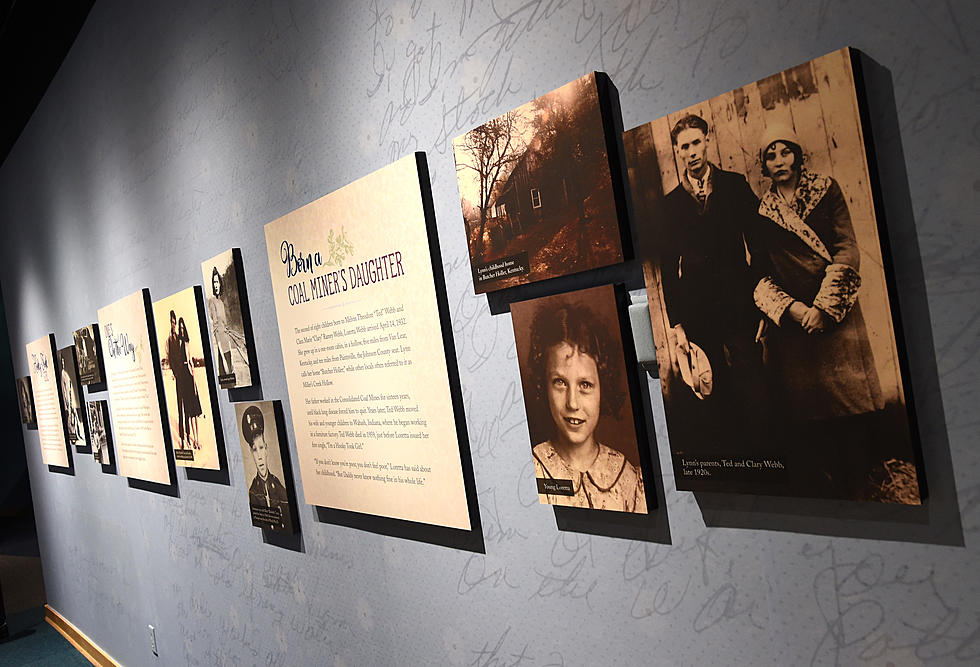 Peek Inside Loretta Lynn's New Country Music Hall of Fame Exhibit [PICTURES]
Rick Diamond, Getty Images
Country Music Hall of Fame and Museum CEO Kyle Young began the event by discussing Lynn's humble childhood in Butcher Hollow, Ky. In those days, she lived in poverty, in a simple cabin, with seven siblings.
"We know this stuff by heart," Young shared. "We know it because Loretta wrote it all down and sang it to us in a voice at once immediate and indelible: 'Daddy loved and raised eight kids on a miner's pay / Mommy scrubbed our clothes on a washboard every day / We were poor, but we had love / I never thought of ever leaving Butcher Holler.'
"What if she hadn't ever left that holler? What if she hadn't let out for the West Coast, and then for Nashville? What if she hadn't learned to play and sing? What if she hadn't written songs we know now by heart?" Young continued. "I'm glad that these are hypothetical questions. If she hadn't done these things, our music, our city and our culture would be different and lesser. Loretta Lynn came from so little and gave us so much."
The Blue Kentucky Girl exhibit holds albums, dresses, Lynn's Presidential Medal of Freedom, one of her early sewing machines and other artifacts. In the country icon's honor, during the exhibit's opening reception, Margo Price sang one of Lynn's numerous No.1 hits, "Fist City," while Brandy Clark performed what is perhaps Lynn's most famous tune, "Coal Miner's Daughter." Kacey Musgraves, meanwhile, offered a touching tribute to the 85-year-old, which included a reading of a segment of the foreword that Musgraves wrote for a book to accompany the exhibit.
"Some adjectives that I'd like to use to kick off this foreword include 'intelligent,' 'irreparably ladylike,' 'witty,' 'authentic,' 'beautiful,' 'strong' and 'brave,'" Musgraves read aloud. "These qualities have made Loretta Lynn a legendary figure in American music and beyond. I can say without a doubt I would not be living the musical life as I know it without her example to follow."
Musgraves also touched on the trailblazing career Lynn created, and how she paved the way for decades of artists to follow in her footsteps.
"When I think about Loretta's journey, it's even more impressive to me that back then, there was zero formula," shared Musgraves. "There was no norm for an outspoken artist who just happened to also be a poor young mother of four. There was no norm for songwriters, guitar players. There was no norm for even women in general, let's face it. There were no iTunes, no cell phones, no AutoTune, no social media, no YouTube, no reality TV shows promising stardom -- no instant gratification. Just pure grit, a line of stars, unique perspective and good old-fashioned talent."
Lynn's daughter, Patsy Lynn Russell, also spoke during the event. Appearing on her mother's behalf and wearing her mother's wedding rings, Russell offered an update on Lynn's health following her stroke.
"Nothing's going to bring her down. She's doing so well," Russell said. "My mom doesn't do anything without doing it 100 percent. That's what she believes: If you don't give it 100 percent, it's not worth doing.
"When she came into this business she said, 'You have to be first, great or different,'" Russell added. "I think my mom is all of those things wrapped into one."
Loretta Lynn: Blue Kentucky Girl will remain open through Aug. 5, 2018. More information about the exhibit is available on the Country Music Hall of Fame and Museum's website.
Loretta Lynn Through the Years
More From Cat Country 102.9