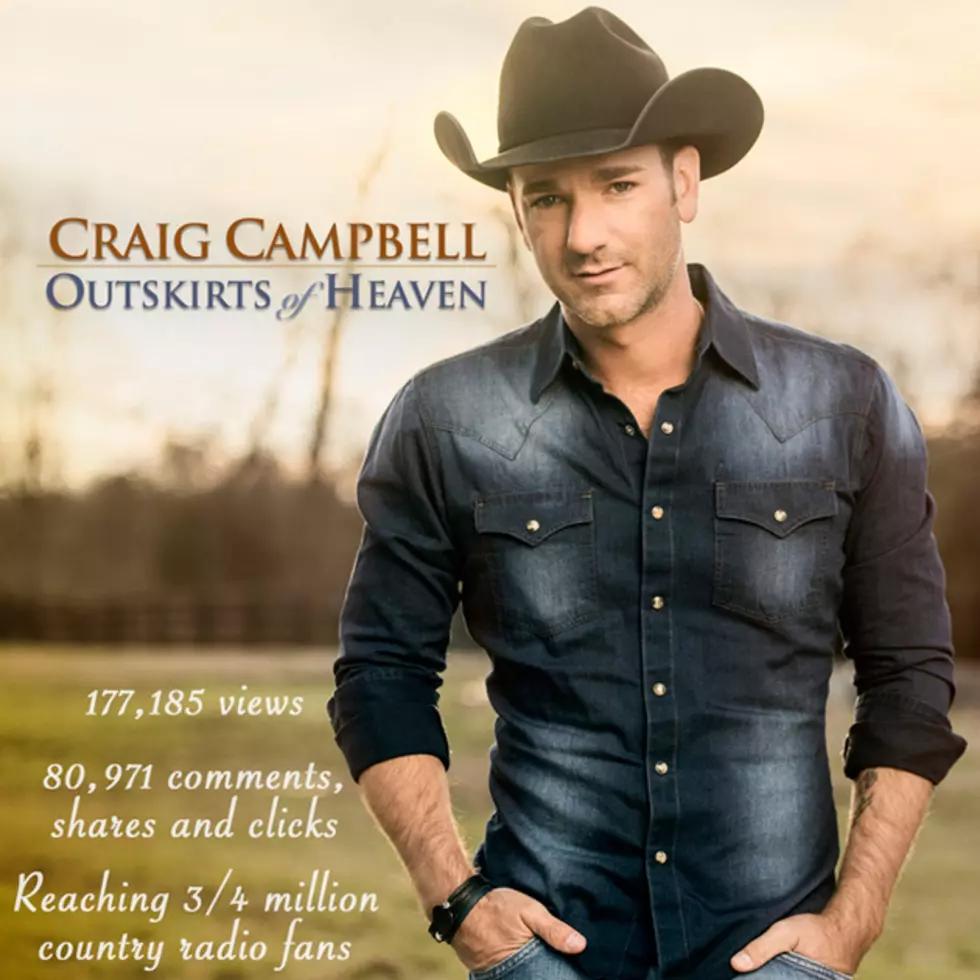 Craig Campbell, 'Outskirts of Heaven' [Listen]
Red Bow Records
Songs like Craig Campbell's "Outskirts of Heaven" refocus a country genre that's easily distracted. The singer's picture of heaven is familiar and satisfying. His vocal performance here is one of the best of his career.
Campbell is a fine vocalist who just needs a string of hit songs to be mentioned in a popular category of hot newcomers. He's been a dependable presence who has persevered after some record label shuffling. "Outskirts of Heaven" is his best effort to date. He bear-hugs writer Dave Turnbull's lyrics and offers them back to a listener in better form than he found them.
Sonically, no one will call this new song anything but country. Cries of the steel guitar accent an opening verse that gets poetic about grandpa. A slow acoustic peddles the verse before a choir of angels helps him rise to touch the high notes in each chorus.
There are songs through the years one wants to compare Campbell's "Outskirts of Heaven" to (Justin Moore's "If Heaven Wasn't So Far Away" comes to mind) but never have several of these hits been clumped together. Country music is indeed cyclical, but we've not had a Heaven cycle in quite some time.
Listen to Craig Campbell, "Outskirts of Heaven"
Craig Campbell, "Outskirts of Heaven" Lyrics:
"My grandpa taught me about buck knives and shotguns / How to cast an ol' Zebco, and how to work a stick shift / He taught me the Bible, and about all 12 disciples / And he made sure that I know there's life after this / With pearly gates, with streets of gold / He said if I just believe, that's where I'll go."
Chorus:
"But Lord when I die I wanna live / On the outskirts of heaven / Where there's dirt roads for miles, hay in the fields / And fish in the river / Where there's dogwood trees and honey bees / And blue skies and green grass forever / Lord when I die I wanna live on the outskirts of heaven."
"Now it says in the King James, in the Almighty's kingdom, he mentions a mansion that he's build just for me / Now I'd gladly trade it for a farm house with acreage / And a backyard that's shaded and a squeaky front porch swing / That's where I wanna hang my wings."
"Yeah the good Lord knows me / He knows I need blue skies and green grass forever / Lord when I die, I wanna live, on the outskirts of heaven."
More From Cat Country 102.9