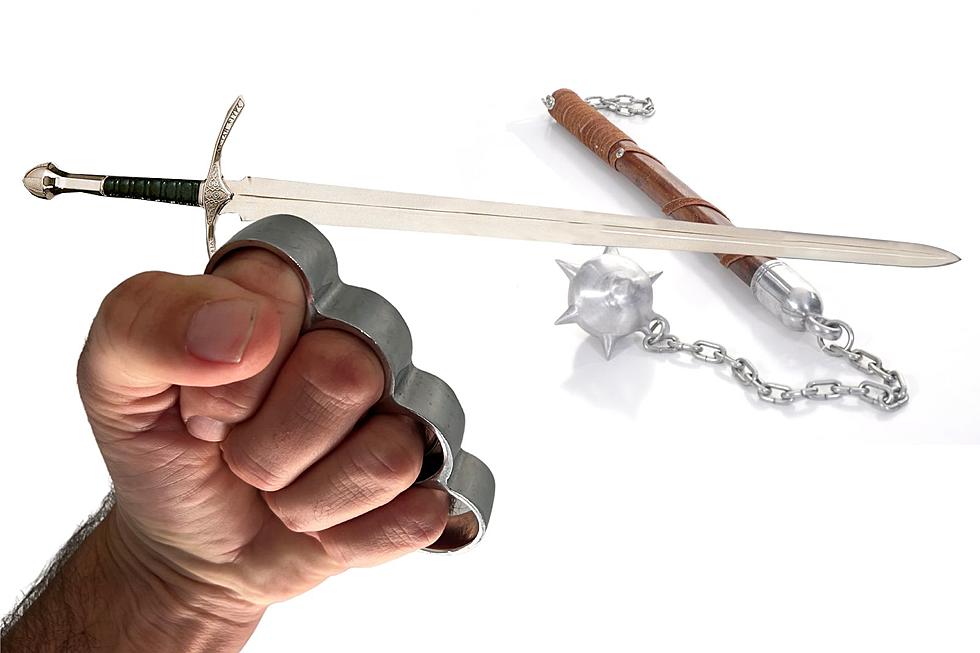 Five 'Destructive Devices' That Are Illegal to Own in Montana
Michael Foth, TSM/Canva
My original plan was to write about illegal weapons in Montana...
But the fact is, there aren't many. Twenty-one states have outlawed brass knuckles, but they're completely legal to possess in Montana. Many states have restrictive knife laws too, but in the Treasure State, almost anything goes. Switchblades are technically illegal if the blade is longer than 1.5 inches, but if you can vouch as a "verified collector" (basically by letting your local sheriff's department know) you can own a switchblade with minimal headache.
A Pro-Second Amendment State
Montana is generally very pro-2A (even most of the "libs" own firearms) and as a result, we have some of the least restrictive gun laws. Permitless concealed carry became legal in 2021 and there are no state-specific restrictions on mag capacity or any other nonsense.
Federal law still applies.
Swords, nunchucks, cat-o-nine tails, throwing stars, baseball bats in your car... all are legal in Montana. Of course, Montana must abide by federal regulations when it comes to fully-automatic machine guns and sawed-off shotguns, and we have to comply with the ridiculous tax stamp and paperwork necessary for owning a suppressor. So what can't we own? Montana Code 45-8-332 lays out what is a no-no.
Tracer rounds.
Many years ago I may have allegedly stumbled onto a couple boxes of 7.62 tracer rounds at a gun show. We may have allegedly shot them off in the winter over a frozen mountain lake in southwest Montana. They may have been incredibly fun to shoot. Tracer rounds are illegal to own in Montana, so perhaps I completely made up that story. However, shotgun tracer rounds ARE legal.
Can I have a grenade?
Um, no. The law is quite clear on this. It states, "a bomb, grenade, explosive missile, or similar device or a launching device therefore" are not allowed.
Anything greater than .60 caliber.
The .50 BMG is a hoot to shoot, albeit an expensive day at the range with shells typically costing over $3 per round. However, anything over .60 caliber (except for shotguns) is illegal in Montana.
No RPGs either?
Nope. You'll have to leave these to the XBox, because "a rocket, rocket-propelled projectile, or similar device of a diameter greater than 0.60 inch or a launching device therefore and a rocket, rocket-propelled projectile, or similar device containing an explosive or incendiary material or any other similar chemical substance other than the propellant for the device" may not be owned or used in Montana.
Molotov Cocktails
A little bit of gasoline, a bottle, and a rag cork soaked in fuel is a fiery combination. Known as a Molotov cocktail, these are a no-no in Big Sky Country. Of course, anything can be used as a weapon (a car, a rock, a pair of scissors, your bad-ass MMA skills) and what you use to hurt someone can easily be classified as a deadly weapon when it comes to the courts and prosecutors.
States with the most registered hunters
Stacker
analyzed data from the U.S. Fish and Wildlife Service to determine which states have the most registered hunters. Read on to see how your state ranks on Stacker's list.
More From Cat Country 102.9