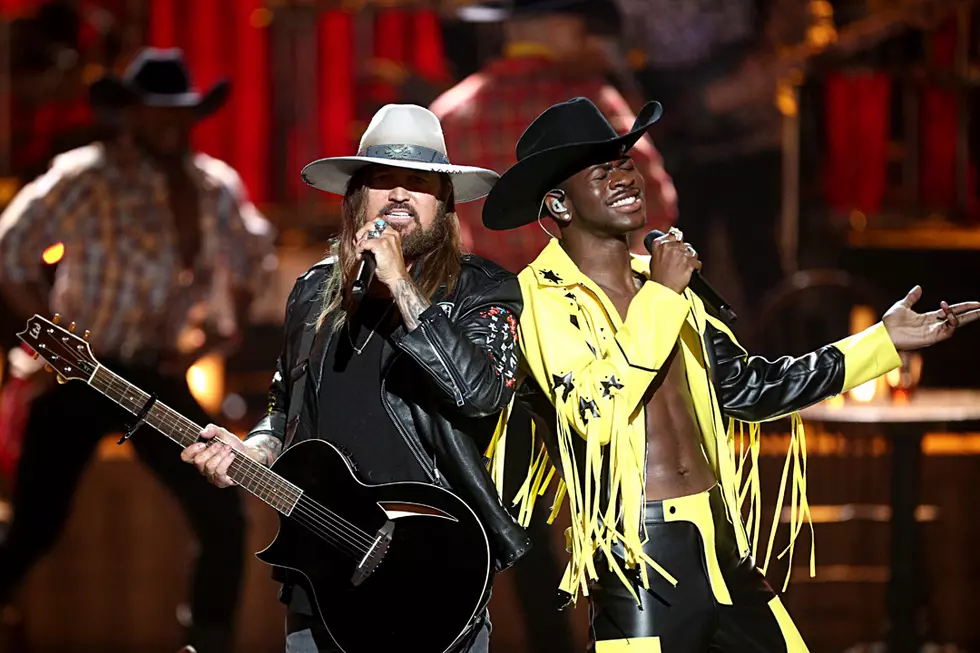 Lil Nas X, Billy Ray Cyrus Win Big at BET Hip Hop Awards
Frederick M. Brown, Getty Images
The Atlanta-based rapper and the country singer-songwriter from Flatwoods, Ky., took home Best Collab, Duo or Group and Single of the Year at the 2019 BET Hip Hop Awards for "Old Town Road," which Lil Nas X released solo before adding Cyrus to a remix that became a runaway multi-genre hit single. Their collaboration on the track shattered the existing record for the longest run at No. 1 on Billboard's Hot 100.
The BET Hip Hop Awards aired on BET on Tuesday (Oct. 8).
"Thank you to the BET Hip Hop Awards and hip hop/rap community for the Best Collab and Single of the Year wins," Cyrus says in a press release. "You kept 'OTR' at No. 1 for 19 consecutive weeks. More importantly, you made me feel welcomed into your home and world. I'm dedicating these wins to Mr. Nipsey Hussle — a legend gone way too soon."
Hussle was a rapper, entrepreneur and community activist. He was shot and killed outside of his clothing store in Los Angeles on March 31, 2019.
Country's Secret Rap History:
Cyrus recently released a new collaboration with Johnny McGuire titled "Chevys and Fords" as his new single, and while he was hopeful the massive success of "Old Town Road" would spark some interest, the song has struggled to gain traction at country radio.
"One of the [radio] consultants said [country programmers] deemed it 'too country for the format right now,'" Cyrus tells Rolling Stone Country. "Can you imagine?"
"I had to hit myself in the head and go, 'What the f--k did I just hear?' This truly was my WTF moment."
Cyrus responded to the news by penning a new song titled "Too Country."
"I was singing this hook and it sounded so good, that I said, 'By God, if they think 'Chevys and Fords' is too country, wait until they hear this,'" he states.
Real Country Fans Will LOVE Riley Green
50 Great Modern Songs for Fans of Traditional Country
More From Cat Country 102.9