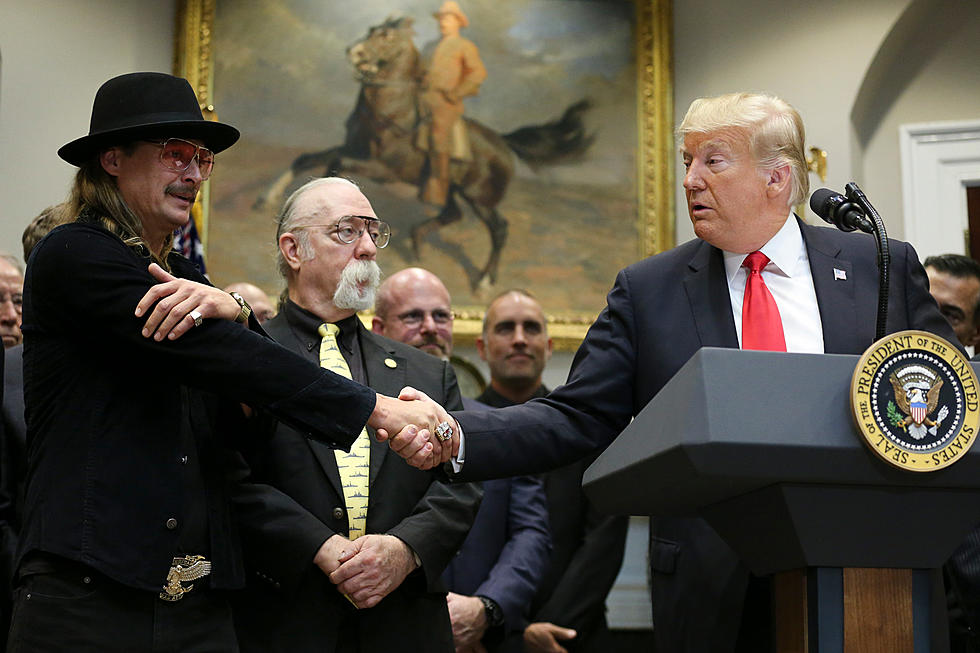 Kid Rock Trends on Twitter as Claims Donald Trump Showed Him North Korean Maps Resurface
Oliver Contreras, Getty Images
Kid Rock was trending on Twitter on Saturday (June 10) as his previous claims that then-President Donald Trump showed him maps and asked his opinion on how to deal with North Korea resurfaced online after Trump's indictment over his handling of classified documents.
The rocker, rapper and sometimes country singer made his claims during an interview with now-former Fox News personality Tucker Carlson in 2022.
"We're looking at maps and sh-t, and I'm like, 'Am I supposed to be in on this sh-t ?'" he tells Carlson as they both begin to laugh.
Both men appear to recognize the absurdity of the situation as Kid Rock lists his own qualifications:
"I make dirty records sometimes. 'What do you think we should do about North Korea?'" he marvels before bursting into more laughter. "What?! I don't think I'm qualified to answer this."
Twitter users began to spread the video widely on Saturday in reaction to Trump's indictment, which includes 37 felony counts related to improper handling, storing, transportation and sharing of classified government documents. The indictment became public on Friday (June 9) and accuses Trump of breaking seven different laws multiple times, including 31 separate counts of violating the Espionage Act. Photos from Trump's various properties include a picture of boxes and boxes of classified documents piled high in Trump's bathroom at Mar-a-Lago.
The indictment also claims the real estate magnate and former reality television star "endeavored to obstruct the FBI and grand jury investigations and conceal retention of classified documents."
Twitter users pulled no punches in their assessment of the Kid Rock clip:
Trump has repeatedly denied any wrongdoing in his handling of classified documents, insisting that he had declassified all of them while he was president before taking them and that they are his legitimate property. The U.S. District Court for the Southern District of Florida filed the indictment after a grand jury voted to indict the former president, who is also under indictment in New York State in relation to an alleged hush-money scheme involving his reported extramarital sexual relationship with adult film star Stormy Daniels.
That indictment includes 34 counts of falsifying business records. The two indictments mark the first time a former president has faced criminal indictment in U.S. history.
Trump is scheduled to appear in court for arraignment on Tuesday (June 13).
PICTURES: See Inside Kid Rock's Luxurious Childhood Home
Kid Rock has a rough-and-tumble image, but he didn't exactly grow up in humble circumstances. His childhood home was a 5,660-square-foot luxury home in Michigan, situated on 5.5 acres that includes 5 bedrooms, 7 bathrooms, 5-car garage, along with a partially finished walkout and guest house. There's also a 3 stall horse barn, regulation tennis court and inground pool. The 22-room house was renovated in 2004, and it also has a hot tub and a wet bar.
More From Cat Country 102.9