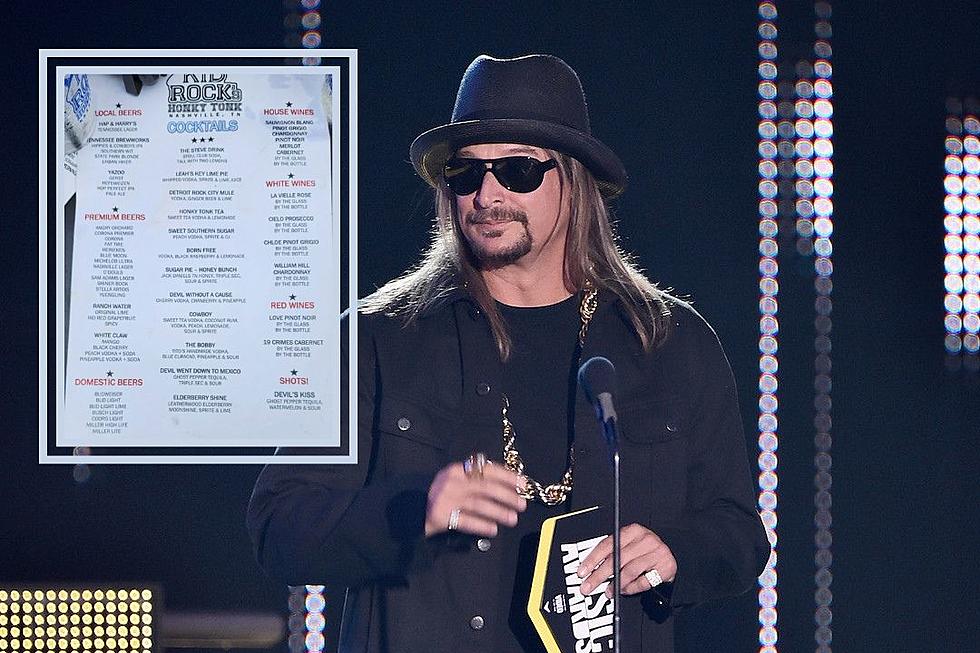 Kid Rock Opened Fire on Bud Light, But It's Still on the Menu at His Nashville Bar
Michael Loccisano, Getty Images/Twitter
Despite Kid Rock's strong words — and gunfire — for Bud Light and its partner company, Anheuser-Busch, the beer brand is still for sale in his Big Ass Honky Tonk Rock 'n' Roll Steakhouse.
CNN confirmed that Bud Light is still on the menu after a recent stop at Rock's hub for food, drinks and live music on Nashville's Lower Broadway strip.
Many conservative-minded beer drinkers expressed criticism for Bud Light after the brand's one-off March Madness partnership with transgender influencer Dylan Mulvaney back in April. The controversy arose after Mulvaney shared a social media video featuring a handful of Bud Light cans sent to her by the company, as well as one custom can with her face on it, in celebration of her first full year of womanhood.
But Rock took things a step further: He shared a video on social media of himself opening fire on a couple 12-packs of Bud Light with a semi-automatic rifle, commenting, "F--k Bud Light and f--k Anheuser-Busch."
The Bud Light controversy has also generated some negative response from country stars like Travis Tritt, who vowed to remove the brand from his tour rider. Tritt and Zach Bryan got into a social media spat over their differing perspectives on the issue; Bryan tweeted his opinion that "insulting transgender people is completely wrong because we live in a country where we can all just be who we want to be." The two singers subsequently reconciled in person at a festival where they were both performing.
According to the online menu of Rock's bar, Bud Light remains available for purchase, as does Budweiser and Bud Light Lime. Busch Beer, another brand owned by Anheuser-Busch, is also still on the menu.
It's not clear whether Bud Light was removed and then re-added to the menu since Rock first voiced his opinions, or whether it's remained for sale at the Big Ass Honky Tonk Rock 'n' Roll steakhouse all along.
Country Songs That Name-Check Budweiser or Bud Light
Long before all the controversy surrounding Bud Light and the Anheuser-Busch brand sparked in spring 2023, the beer was a staple in country music lyrics. Here are some of the best songs that reference Budweiser or Bud Light.
More From Cat Country 102.9