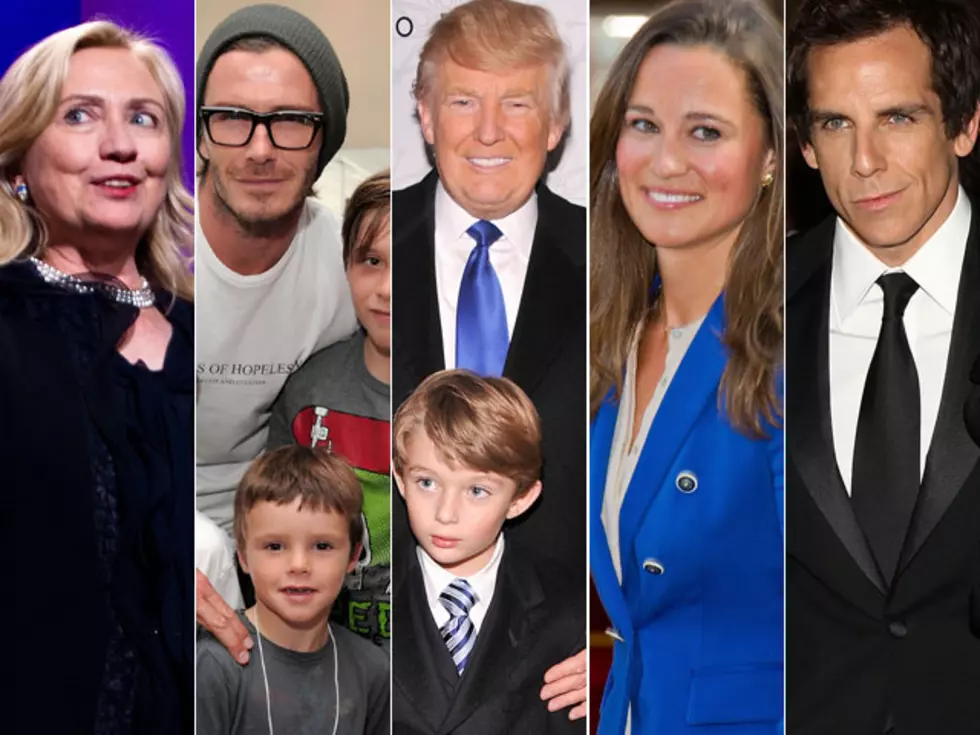 10 Famous Families That Deserve Reality Shows
Daniel Berehulak/Jordan Strauss/Gary Gershoff/Ian Gavan/Stephen Lovekin, Getty Images
Daniel Berehulak/Jordan Strauss/Gary Gershoff/Ian Gavan/Stephen Lovekin, Getty Images
Go ahead E!, make our day… by making Clint Eastwood's reality show. TMZ recently broke the news that this cinematic icon's family will soon be getting the Kardashian treatment. Plastic surgery and quickie divorces? No. A camera crew following the Eastwoods' every move: the good, the bad and the ugly? Yep.
Word is, Dirty Harry himself will only make a cameo or two on the series, while his wife, Dina, and daughters, Morgan, 15, and Francesca, 18, will be featured prominently. If Clint Eastwood's family is not above reality television, we have to ask ourselves, what other famous families would we like to see follow suit?
The Pitch: Alec. Daniel. Billy. Stephen. The sexy foursome that is the Baldwin Brothers knows how to stay relevant (i.e., bring the crazy hard and bring it often). Think rugged good looks, clashing political and religious views, varying levels of talent and more chest hair than mankind has ever seen. We'd tune in to this show eight days a week. (Sponsors might include American Airlines and "smart people" word games.)
Clockwise from top Left: Stephen Lovekin / Stephen Lovekin / Michael Buckner / John M. Heller, Getty Images
The Pitch: Move over, Kim K's backside. There's a new "it" bum on the small screen and it belongs to Pippa Middleton! We can just see it now: shopping for sheer pantyhose on Fleet Street with Pips, weekend excursions to Bucklebury to visit mum Carol and dad Michael, and little bro James popping up in compromising situations here and there to spice things up. Special episodes even feature the occasional Royal cameo from big sis Kate and hubby Prince William… but mostly, we just want to watch Pippa be awesome.
The Pitch: What better way to keep tabs on the elusive, camera-shy billionaire real estate tycoon? Ok, so The Donald is a headline-grubbing publicity hound already, but his third wife, Melania, and extensive network of offspring — Donald Jr., Ivanka, Eric, Tiffany and Barron — pull back the gilded curtain on the inner workings of The Trump Organization, the swanky lifestyle of this one-percent family and the top-secret styling of that famous comb-over. The cameras are rolling to catch Trump's next Presidential bid… or bankruptcy. Whichever comes first.
Gary Gershoff, Getty Images
The Pitch: Ideally, this show features Becks alternately doing odd handyman jobs around the mansion (shirtless, in slo-mo) and lounging by the pool in diamond-encrusted underthings. Posh holds court planning charity events with her fashionista friends, while adorable sons Brooklyn, Romeo and Cruz kick a "football" around the back garden and vie for "Big Brother of the Year" to new baby sis Harper Seven.
Jordan Strauss, Getty Images
The Pitch: Prolific directors Francis Ford and daughter Sofia sip wine and polish their Oscars while discussing the state of modern cinema, "The Godfather" and Bill Murray. Sofia's husband, Phoenix frontman Thomas Mars, and her cousin, actor-musician Jason Schwartzman, compose the theme music and make special appearances to lend even more hipster appeal. Crazy cousin Nicolas Cage lurks in dark corners throwing out occasional non sequiturs. All of this, combined with the prospect of the most beautifully-shot reality show in history, would make watching The Coppola series an offer we couldn't refuse.
Pascal Le Segretain, Getty Images
The Pitch: Hill, Bill and Chelsea give viewers an inside look at their respective public roles — secretary of state, elder statesman-philanthropist and special correspondent for NBC. But the real entertainment value comes when Bill gets his dates mixed up and some of his attractive female "contributors" arrive at a family dinner. Also, in the first season, Hillary gets bangs and Chelsea announces she's got a little politico on the way. In the final segment, Bill offers up an extensive list of nannies he insists he has thoroughly vetted himself. Hillary and Chelsea exchange glances. Roll credits!
Daniel Berehulak, Getty Images
The Pitch: Trust us. This is the family dinner table at which you've always yearned to sit and push (funny!) vegetables around your plate. Patriarchal jokester Jerry cracks wise with actor-director son Ben while their equally hilarious and accomplished wives, actresses Anne Meara and Christine Taylor, roll their eyes and pass around a bottle of red. Bonus: fellow members of the "Frat Pack" Luke and Owen Wilson, Vince Vaughn, Will Ferrell and Paul Rudd offer a steady stream of juvenile, semi-nude (and hilarious) appearances. Every episode ends with Ben working in a quote from one of his films. First up, 'Zoolander:' "You can derelict my…"
Stephen Lovekin, Getty Images
The Pitch: The famous football family spotlights their charity foundation work and shares their tips on alpha male dominance. Big bro Cooper crunches energy investment firm numbers with dad Archie, while NFL quarterback brothers Peyton and Eli swap Super Bowl rings and challenge each other to obstacle course races in the backyard.
Astrid Stawiarz, Getty Images
The Pitch: Those gorgeous, quirky and adorable Deschanel sisters are just so… gorgeous, quirky and adorable! Sisters Emily and Zooey partake in the most mundane of tasks like starring in their respective TV shows 'Bones' and 'New Girl,' readying themselves for red carpet events and shopping for vintage clothes. Academy Award-winning cinematographer-dad Caleb assists the crew with lighting and camera position and babysits Emily's new son, Henry. Newly-single Zooey hits the dating circuit and nibbles vegan fare.
Frazer Harrison, Getty Images
The Pitch: Mimi mounts her comeback after giving birth to twins Monroe and Moroccan and brings the fierce diva-rific antics her fans have come to expect. Meanwhile, her hubby and entertainment mogul Nick Cannon hosts 'America's Got Talent,' stars on the NBC sitcom 'Up All Night' and tours with his stand-up act. When he's at home, Cannon displays a super-human capacity for patience in the face of unreasonable, overwhelming, infantile demands… And then he has the twins to deal with.
Alberto E. Rodriguez, Getty Images
More From Cat Country 102.9