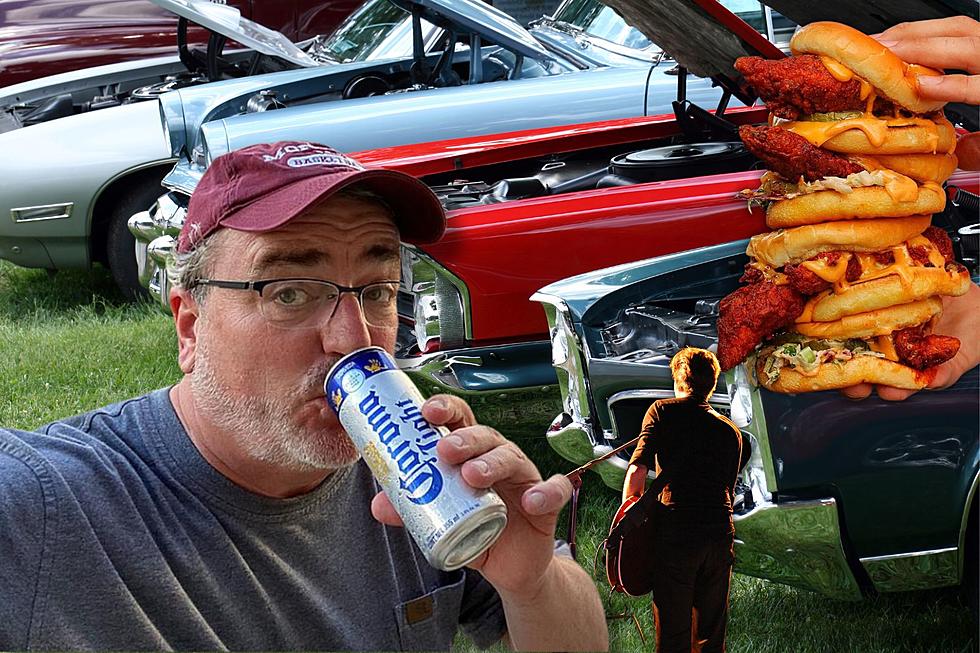 Friday Fragments: Fat Bottomed Girls, Dave's Hot Chicken, Music, and Car Shows.
Credit: Mark Wilson, TSM / Dave's Hot Chicken / Canva
Queens "Fat Bottomed Girls" has been dropped from a kids streaming service. We were the only radio station in America to play the bluegrass version of the song for you. You're welcome.
My buddy Ro needed a ride to the airport and asked if I could take him. I said "Sure". So Tuesday morning I backed the pickup into his driveway. I knocked on his door. After a few moments he opened the door and said "Friday. Wilson, It's Friday". Sorry.
Everybody seemed to enjoy the video of a group of ladies from the Phillipsburg music festival. These gals have forever changed what I see in my mind when I hear "Fishing In The Dark".
A guy named Oliver Anthony has the number-one song this week. It's called "Rich Men North Of Richmond". But It's nowhere to be found on the airplay charts. Could somebody ask our corporate guys why that is, please?
Ryan Bingham (Walker from Yellowstone) has a new album out called "Watch Out For The Wolf". And Zach Bryan's new album also came out this week. That's another guy we should be playing.
Shortly after Popeyes leaves town, it's announced that Dave's Hot Chicken is on its way to us.
The car show in Columbus that was raising money for Cystic Fibrosis raised $15,500. Strong work.
Next weekend is Burn The Point. This year you can register your car online if you want to participate. This is a fundraiser for Chase Hawks. I'm a big fan.
Have a great weekend.
See you Monday morning at 5.
Mark Wilson From The Breakfast Flakes Has the Jokes
Here are eight funniest dad jokes, puns, and memes as shared by co-host Mark Wilson from Cat Country 102.9's The Breakfast Flakes.
More From Cat Country 102.9