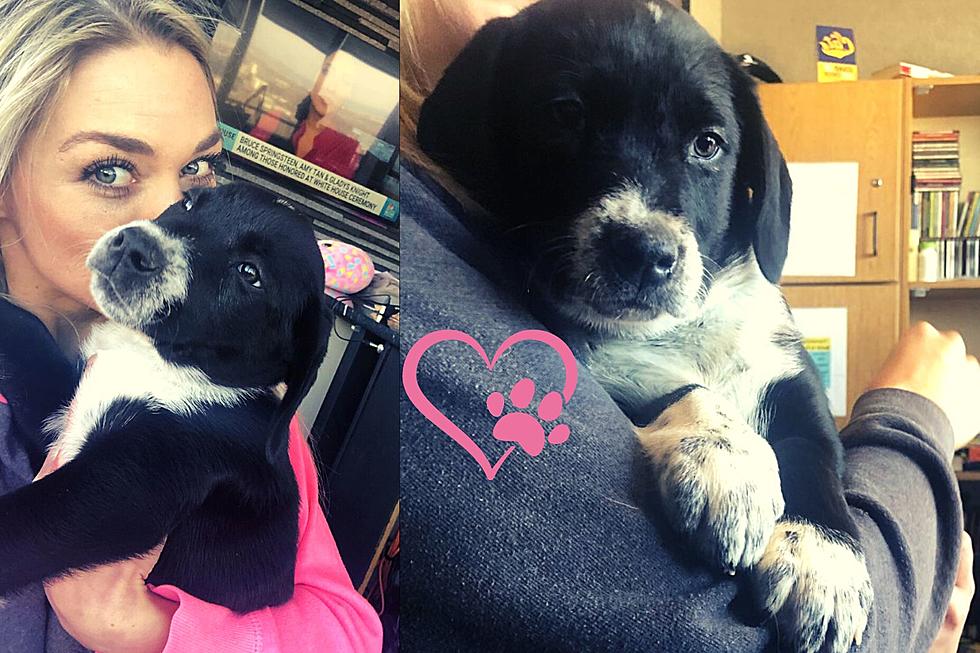 Suzie the Cutie Stole Our Hearts and She Will Steal Yours Too
Credit: Nikki V.
Wet Nose Wednesday is our Favorite Day at TSM Billings
Suzie the 10-week-old puppy stole the hearts of our TSM team immediately upon her arrival atop the Double Tree Hotel. I mean, just look at her... she's full of personality and has a gentle soul. She just needs her forever, loving home. We tried to get Paul from Breakfast Flakes to adopt her... but he never takes the bait. Dang it! 
Breed and Personality 
Suzie the blue heeler mix is 10 weeks (about 2 and a half months) and was surrendered to the Yellowstone Valley Animal Shelter after someone found her in a Walmart parking lot. The previous owner realized they weren't prepared for a puppy, so that's when she was surrendered to YVAS. But we know someone is going to swoop Suzie up quick.  
Suzie is gentle with bursts of puppy energy.
She absolutely loves to be cuddled and even started falling asleep in our arms. Then she was back to puppy energy shortly after. She even rolled over to get some belly rubs on her little pot belly. Suzie is great with kids and is young enough to be introduced to cats to bond in the home. 
She will be your best friend and loves to take car rides. Walks daily will benefit Suzie since she's a heeler mix with energy to burn. 
Suzie is ready to take home! She's spayed, has a chip, and all her vaccines.
Schedule an appointment with YVAS to meet Suzie the Cute. By the way YVAS is holding a vaccine clinic this weekend if you dog or cat needs their updated.
Wet Nose Wednesday on Cat Country 102.9 is brought to you by Shipton's Big R.
More about

Yellowstone Valley Animal Shelter.

 
Yellowstone Valley Animal Shelter has been around the Billings Community since 2007 and became the official city companion for sheltering animals in 2009. Since the creation of YVAS, they have become the largest animal shelter in Montana, with over 5,000 animals coming through their doors each year.   
Right now, YVAS is more than just a shelter. They work toward reuniting lost pets with their owners, provide adoption services, offer foster care for pets, and go out of their way to volunteer in the community.  
RANKED: Here Are the 63 Smartest Dog Breeds
Does your loyal pup's breed make the list? Read on to see if you'll be bragging to the neighbors about your dog's intellectual prowess the next time you take your fur baby out for a walk. Don't worry: Even if your dog's breed doesn't land on the list, that doesn't mean he's not a good boy--some traits simply can't be measured.
More From Cat Country 102.9