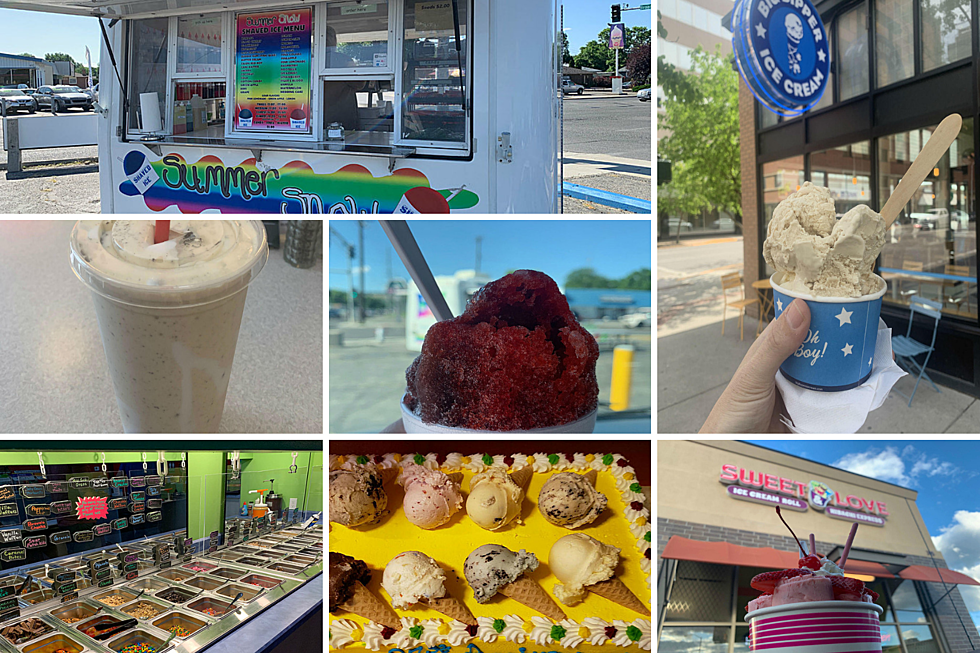 8 of Billings' Favorite Frozen Treats
Credit: Johnny Vincent, Townsquare Media
In the first years of my life, I had a dairy allergy. Even having a teaspoon of milk would give me a three-day ear infection. So, I had my bowl of Cheerios with soy milk, and orange sherbet was the only option when the family stopped at an ice cream parlor.
Around the age of 8, someone gave me a scoop of homemade ice cream during a family reunion. I couldn't resist. I was willing to take the pain that would follow so I could enjoy a rare dairy treat. But, the ear infection never happened. After a few more bowls of ice cream, it was obvious I had outgrown the allergy.
That began a daily dose of ice cream that I continue to have to this day. And now that I have to watch calories, it may only be a spoonful or two of frozen yogurt, but I always have some kind of frozen treat after a meal.
Here are 8 frozen treats you can enjoy before summer ends in Montana:
Favorite Soft Serve Ice Cream - Softies
My favorite soft serve vanilla ice cream is from Softies at 2407 Broadwater Avenue. Sundaes, slushes, and flavor bursts have been a summertime tradition for many generations. There's nothing better than the last couple bites of a plain cone melting in your mouth with soft-serve ice cream. Even though it's a challenge to park, and you sometimes have to play human Frogger to get there, you will rarely pull up to Softies and not see a line of families waiting for their treat on a summer evening.
Favorite Hand-Scooped Ice Cream - Big Dipper
The name of this ice cream parlor should be an indication of how HUGE their single scoops are. You get your money's worth at Big Dipper Ice Cream located in Downtown Billings at 100 N. Broadway. If you're up for a double scoop, my favorite is Mint Oreo and El Salvador Coffee. Only found in Montana, Big Dipper started in Missoula and was featured on Good Morning America. CLICK HERE to watch the video and find out more.
Favorite Rolled Ice Cream - Sweet Love Ice Cream Roll & Hibachi Express
Watching the process that Sweet Love (315 Main Street) uses is truly something to see. They take cream and a dangerously cold platter and well, watch the video below to see how the ice cream happens.
Favorite Ice Cream Cake - Baskin-Robbins
Who waits for a birthday to have this perfect marriage of cake AND ice cream? Not me. Baskin-Robbins has the best selection of fresh ice cream cakes and polar pizzas that can be customized. CLICK HERE to see how you can customize an ice cream cake.
Favorite Gelato - Your Pie!
According to Food Network, there are some distinct differences between gelato and ice cream: "While both contain cream, milk and sugar, authentic gelato uses more milk and less cream than ice cream and generally doesn't use egg yolks, which are a common ingredient in ice cream." While known for their made-from-scratch pizza, Your Pie (824 Shiloh Crossing, Suite #1) also offers six different flavors of this Italian dessert.
Favorite Frozen Yogurt - U Do Yogurt!
Offering multiple frozen yogurt flavors and more than 50 toppings, U Do Yogurt (27 Shiloh Road) is a great place for families to enjoy an evening in Shiloh Commons. Complimentary board games add to the fun with multiple food options available, including a U Do Pizza station that gives you a hot pizza pie in 90 seconds.
Favorite Milkshake - The Burger Dive
Already world-famous for their hamburgers, the milkshakes at The Burger Dive are some of the best in the country. Even if you go with a simple vanilla or try a Huckleberry and Goat Cheese shake, they're all a perfect partner with a burger.
Favorite Shaved Ice - Summer Snow
Featuring 35 flavors from Banana to Wedding Cake, Summer Snow has 2 locations to get their shaved ice. In the Heights, and across from Softies at 24th and Broadwater, I suggest a mix of Tiger's Blood and Blueberry to get a coating on your tongue that will let everyone know you've not outgrown snow cones.
CLICK HERE to get our Summer Guide with concerts, events, fairs, and festivals.
More From Cat Country 102.9