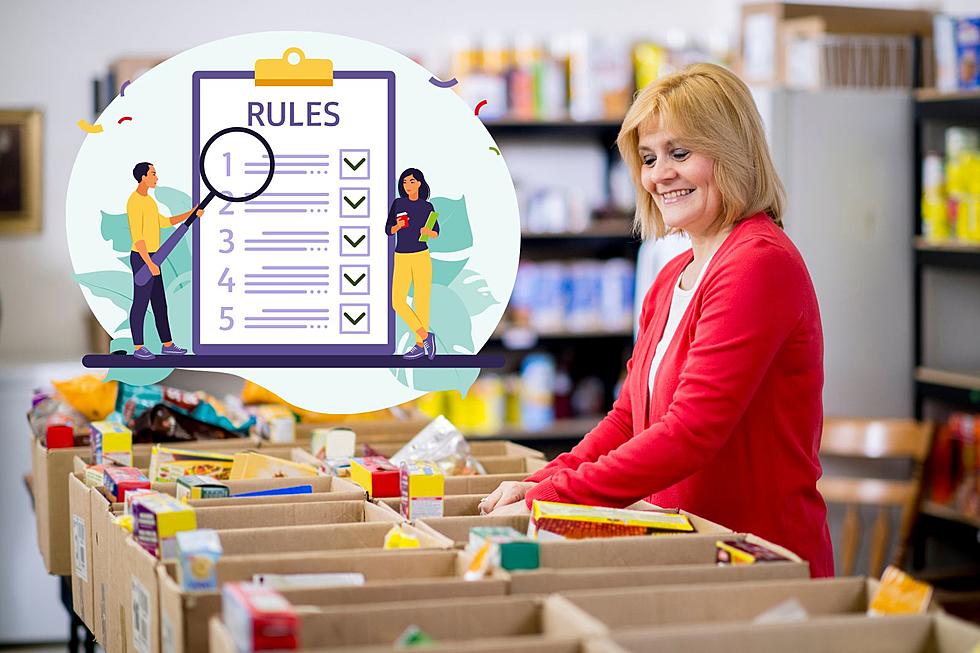 Does The Billings Food Bank Have A Secret 4th Rule To Get Food?
Credit: Canva
Earlier this week, I came across a post on the Billings Customer Service Watchdog page on Facebook. The post, from an anonymous community member, said:
Got turned away at the food bank and the lady was extremely mean about it.... apparently if you have gone to family service EVER you can't get food there now just a heads up to everyone
As someone who grew up in a single-parent home, we had to use the food bank now and again in Miles City to help cover costs... so I fully understand the need for help. But this seemed strange to me. Here's my experience so far...
How Hard Is It To Get Food?
According to the Billings Food Bank website, you only need THREE things in order to get food assistance:
A Picture ID of the person who is picking up a box
Proof of address (utility bill, banking statements, etc) or a Declaration of homelessness
Social Security cards for everyone in the household
Somewhat easy to accommodate requirements for most. Though, the commenter mentioned they have an unwritten 4th rule...
...apparently if you have gone to family service EVER you can't get food there now...
Surely not, right?
After seeing this post, I called the Billings Food Bank on Tuesday (May 9th) and spoke to the front desk attendant. After identifying myself, and asking to speak with Sheryle Shandy (The CEO of the Billings Food Bank), I was told "She'll call you back in 15 minutes when she is off the phone". Ok, Great!
An hour and a half later, no call. On my way home for the day, I stopped at the food bank around 4:30 PM and found a lobby with nobody in it. After saying "hello" a few times, a lady popped out around the corner and asked me what she could do for me.
I explained who I was, that I called earlier, and was told Sheryle would call back in 15 minutes... and figured I would stop in, in person, on my way home and see if I could clear this up. The tone immediately changed, and I was repeatedly told that she would not answer any of my questions and that I would have to talk to Sheryle. Alrighty then.
Now, if you know me, I am not one to leave it there... and so I pressed on asking about the rules for a food box. After changing the topic from "I'm with the media, and I'm here to inquire" to "If I wanted a food box... what do I need?", the front desk attendant let me know the three rules listed above... and followed up with "We also need to know if you have gotten assistance from anywhere else". The fourth unwritten rule.
I said alright, and asked why they needed to know that information... and once again we went back to not wanting to answer my questions, and telling me I needed to speak to Sheryle. I turned to the door, started walking away... but stopped short, turned, and asked if Sheryle was in tomorrow (Wednesday), and was told she will not be speaking to me in person, and that I need to schedule an appointment. Alrighty then...
Wednesday (Day Two)
After waiting until around noon to hear back from Sheryle, I called the Food Bank and got a ringing line. It eventually went to their voicemail answering service, and I did not leave a voicemail. I figure that Sheryle, being the CEO, must be a busy bee... so I'd wait until Thursday for that call back (that was supposed to be in 15 minutes, remember?)
Thursday (Day Three)
Now three days into my quest to find answers, I had not heard back from Sheryle. By noon, once again, I called and this time DID reach the front desk attendant (I believe it was the same one I spoke with before on the phone and in person). I, again, explained who I am... and that Sheryle has not gotten ahold of me, and I would appreciate a call back asap. She told me "I'll give her your message" and that was it.
Friday (Day Four)
Here we are, today, and still... no phone call back. No, I did not call today... because I, too, am a busy person... and at this point, I feel as if I have done my best to get a call back from the CEO of our Food Bank.
So, where do we go from here?
Honestly, I'll keep my next plan of action a secret for now. But, one interesting fact about the CEO of the Billings Food Bank... is her salary.
I'm paid pretty well for a radio announcer and thankfully have not had to utilize the food bank since I was a kid... but I feel for those who are working low-paying jobs, getting low amounts of sleep, and they still have to get food stamps or ask for help from the Food Bank.
What's interesting to me about Sheryle Shandy, and her choice (so far) to not return my calls... is how much SHE makes a year. The Billings Food Bank, being a public entity, is required to provide financial information to the public. And, if you look around on their website, you can find it. How much do you think Sheryle makes running the food bank?
Whatever you are thinking, think bigger. According to the 2020 IRS Tax Forms on their website, Sheryle Shandy makes...
$115,590
Now that is what I'd call being paid well in Montana. Sure, being the CEO must be a difficult job... but she isn't going hungry anytime soon.
And Sheryle Shandy certainly doesn't get asked if she got assistance somewhere else in the city, and denied a food box because she may have gotten food from another organization.
So, Sheryle... I'd love to clear this all up. You have my number (I've given it to your front desk multiple times), but if they misplaced it, call us some time on the main phone line... leave ME a message (because I am a VERY busy guy...) and I'll try to call you back within 15 minutes.
406-248-7827, Press #4 for the front desk. :)
Hope to hear from you soon, Sheryle!
What Grows Well in a Montana Garden?
Montana gardeners and beginners alike, have so many options when it comes to growing a decent garden in our difficult climate.
10 Mother's Day Meals Anyone Can Make That Mom Will Love
Get your culinary skills shining for this weekend with our list of 10 of the best things to make for a meal for Mom this weekend. From the simplest things like ice cream to full blown steak dinners, we have you covered.
More From Cat Country 102.9