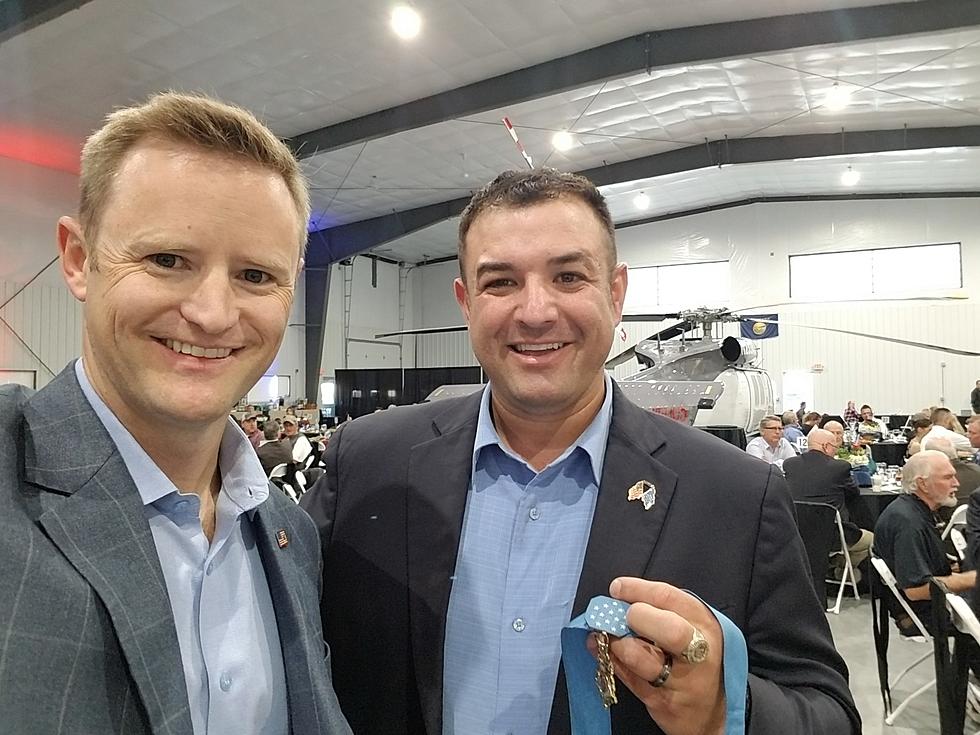 Medal of Honor Recipient Leroy Petry in Montana!
Credit Aaron Flint, Townsquare Media (Radio host Aaron Flint pictured with Medal of Honor recipient Leroy Petry)
When you see the Medal of Honor worn by an American hero in person for the first time, it will stop you in your tracks. Medal of Honor recipient Leroy Petry was in Billings, Montana Thursday night speaking at a fundraiser for an organization called "Veteran Air Warriors."
Petry is an Army Ranger who saved the lives of him and his fellow Rangers, when he picked up an enemy grenade and launched it back at the enemy. The grenade blew up while he was throwing the grenade and instantly severed his right hand. He did all this after already having been shot in both legs, and while returning fire on the enemy in Afghanistan.
Petry is an incredibly humble, friendly guy who embodies everything that makes this country great. He spent the entire evening meeting with everyone in attendance at the event, and even let us "hold his hand"- the robotic hand he was fitted with after his injury in combat. (And let me tell you- not only can he grip your hand with a handshake, but it is a solid grip that you would certainly expect from an Army Ranger)
The entire evening was an incredible event at the Billings Flying Service hangar in honor of a new organization called "Veteran Air Warriors." Before the event kicked off, folks travelling through Billings may have spotted something in the skies over Logan International Airport. That was retired green beret and Golden Knight team member Dana Bowman parachuting onto the tarmac with a massive American flag! Check out the video below.
More From Cat Country 102.9